Gail Sheridan to stand in elections for Glasgow City Council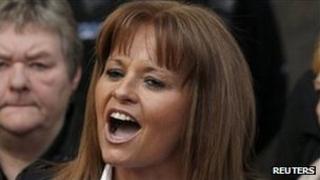 The wife of disgraced former MSP Tommy Sheridan is to stand for election to Glasgow City Council.
Gail Sheridan will run for Solidarity, the party her husband set up after he left the Scottish Socialist Party.
The 47-year-old is the latest high-profile candidate in the nationwide election which takes place on 3 May.
Dunfermline FC director Jim Leishman announced last month that he would stand locally as a candidate for Scottish Labour.
Mr Sheridan has been released early from a prison term for lying during his successful defamation case against the News of the World in 2006.
Husband jailed
He took the newspaper to court over claims he was an adulterer who had visited a swingers' club and was awarded £200,000.
Mr Sheridan and his wife were charged with perjury following a later police investigation.
Mrs Sheridan was acquitted but her husband was convicted in December 2010 and jailed for three years.
Former professional footballer Mr Leishman is hoping to secure a seat on Fife Council.
Both Mrs Sheridan and 60-year-old Mr Leishman will be standing against candidates from a number of other political parties in Scotland.
All 32 local authorities north of the border will be taking part in the council elections in May.
The deadline for candidates who would like to stand in the poll will be 16:00 on Thursday.