Crimestoppers offers £5,000 reward over Mary Coulter attack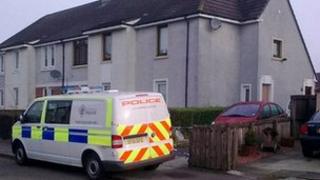 A £5,000 reward is being offered to help catch those responsible for a "sickening" attack on a grandmother in North Lanarkshire.
Four men attacked 76-year-old Mary Coulter at her home in Overtown, near Wishaw, at about 05:20 on 22 March.
Her son and grandson had been among three men cleared of killing Asian waiter Surjit Singh Chhokar in 1998.
The Crimestoppers charity is offering the reward for information which leads to arrests and prosecutions.
The four men smashed down the front door of Mrs Coulter's ground floor flat and assaulted her in the hallway with a knife and a bat.
Permanently scarred
When she ran onto the street, they chased her and continued the attack.
The men ran off after Mrs Coulter's neighbours were alerted to her screams.
She suffered serious head injuries during the attack, cuts to her face - which have left her permanently scarred - and two broken arms.
Mrs Coulter's attackers were all white men. They were either wearing hooded tops or had scarves over their faces. One is described as being particularly heavily built.
Police said Mrs Coulter was not the intended victim of the attack.
Crimestoppers' Scottish manager, Kate Jackson, said: "This is a very serious assault that has left a mother of six maimed and with fractured bones.
"The sickening violence of this attack needs immediate positive reaction by the public through giving information on this crime so the heartless individuals responsible can be served justice.
"We are urging the public to call us anonymously with any information they have on this savage crime."
Mr Chhokar's murder in 1998 sparked controversy after the failure of authorities to secure a conviction.
Three men, including Ronnie Coulter and his nephew Andrew Coulter, were cleared of the killing following separate trials.
Last month the Crown Office instructed Strathclyde Police to carry out a new investigation into Mr Chhokar's murder under double jeopardy legislation introduced last year.