Glasgow Subway revamp plan to get £246m from government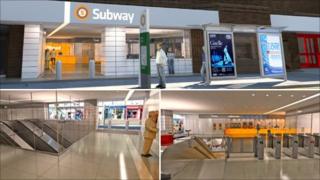 Plans to completely revamp Glasgow's ageing subway system are to be backed by £246m from the Scottish government.
The funding will provide the majority of the estimated £287.5m cost, which will see all 15 stations redeveloped and new driverless trains brought in.
Disabled access will also be improved on the six-mile long system and a smartcard ticketing system added.
The rest of the cost, about £41.5m, will be met by operator Strathclyde Partnership for Transport (SPT).
Economic boost
It will raise finance by borrowing against existing assets, with the Scottish government acting as guarantor.
SPT chairman Jonathan Findlay said government cash meant the organisation's vision for the future of the Subway would be realised.
"Massive changes are coming down the line for the Subway and we've already committed millions to station upgrades, new escalators and smart card ticket technology as well as behind the scenes repairs to tunnels and track beds.
"Tendering for the new bespoke driverless trains and signalling that could improve how often our trains run has already begun and we've received submissions from world class firms.
"Working practices are also being addressed to make the Subway's operation more flexible and we are fully aware of the challenges that lie ahead."
Cabinet Secretary for Infrastructure and Capital Investment, Alex Neil, said: "The subway has been at the very heart of Glasgow for 115 years, but the time has come to make this icon of Scottish transport fit for the 21st century.
"This money will enable SPT to deliver new bespoke trains, to refurbish stations, to upgrade signals and improve accessibility for passengers.
"It will deliver the service passengers need to go about their business quickly and effectively and boost Glasgow's economy."