Turner Prize winner Douglas Gordon's mural destroyed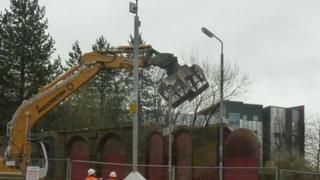 One of the earliest works of art by the Turner Prize winning artist Douglas Gordon has been demolished.
The work - called Mute - was painted on walls in the east end of Glasgow by the artist in 1990.
But the structure, part of a former railway station, was damaged in the recent storms and deemed unsafe by its owners.
Fans of the graffiti-style mural had described it as one of the city's "hidden treasures".
Douglas Gordon, who won the Turner Prize in 1996, was commissioned to create the mural on the disused Glasgow Green station in 1990.
A spokesman for Glasgow City Council said Network Rail had to demolish the structure because it had been left unsafe after the winter's storms.
Because of its position above a busy railway line, it was deemed too dangerous to leave in place.
Katrina Brown, director of GI, the Glasgow international festival of visual art, told BBC Scotland: "Douglas was one of four artists commissioned to make outdoor works for a project called Sites Positions in 1990.
"He painted some text on the inside of the two walls so you could really only see it if you were approaching the city from the east end.
"Recently it's been a feature visible from the West Brewery there.
"I think a lot of people enjoyed it as a hidden treasure."