Neil Lennon bomb trial: Accused 'knew about parcels'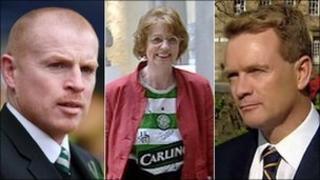 A man accused of plotting to kill the Celtic manager told police he knew packages were being made up to send to Neil Lennon, a court has heard.
In a police interview played to the jury, Trevor Muirhead also admitted supplying two bottles of peroxide.
He denied posting or preparing the packages which he said were made up "as a hoax".
Mr Muirhead, 43, and Neil McKenzie, 42, deny plotting to kill Mr Lennon, Trish Godman and the late Paul McBride QC.
In the interview with detectives from Strathclyde Police following his arrest last May, Mr Muirhead was asked about his involvement with the suspect packages.
"Did you post them?", asked Det Con David Thomson. "No," he replied.
"Did you know what was in them?" asked the detective.
"No," said Mr Muirhead, "I knew there was packages getting made up supposed to be as a hoax for Neil Lennon, that was aw I knew aboot it."
Mr Muirhead, from Kilwinning, Ayrshire, went on to admit to supplying two bottles of peroxide to a person who he said was involved in the plot.
"They asked me if I could get peroxide and I got it," he said.
"I supplied two bottles of peroxide."
Republican music
Asked whether the other person involved was his co-accused Neil McKenzie, Mr Muirhead replied: "I would agree wi' you there aye, it's pretty accurate but I'm no' saying it is and I'm no' saying it's no."
"So what did you think of all this with Neil?" asked Det Con Thomson.
"I thought he was just fantasising to be honest wi' you," said Mr Muirhead, adding "I take it it's a hatred for Neil Lennon."
He also told police: "I know the parcel tae Neil Lennon went fae Saltcoats right. I know that much right...I thought they were just putting the stuff in a bag and then sending it."
The court also heard that Mr Muirhead claimed to have been "an avid follower of Glasgow Celtic" in his youth.
He made the comments in an interview at Paisley police station on 12 May 2011, which were played at the High Court in Glasgow.
He also said he had "no opinion" on Mr Lennon, that Celtic were "a good football club" and also that he was a fan of Irish Republican music.
Watched Rangers
He claimed his father - a Catholic - liked watching Celtic and they both took an interest in football until the pair grew apart.
Mr Muirhead was later asked if he was a Rangers fan and told detectives he had been "a few times" to watch the Ibrox club.
He claimed the last occasion he had seen Rangers play in Scotland was two years earlier.
The police also quizzed him on his "personal opinion" of Celtic manager Mr Lennon.
Mr Muirhead replied: "I don't have an opinion. I don't know the man and I don't offer opinions on people that I don't know."
When asked about Celtic, he claimed they were a "good football club".
Det Con Thomson went on: "Do you see Celtic, Neil Lennon or anything to do with the Catholic faith as a threat to you?"
Not religious
Mr Muirhead replied: "No, I worked in a chapel a long time ago...religion is not an important thing to me."
He also stated he had "not a clue" why Mr Lennon would be a target adding: "I think its stupid, basically idiots...I haven't got a clue why I'm even here."
The accused told police he did not "know a thing" about former MSP Ms Godman and that Mr McBride was a QC who made "comments about the SFA and Mr Lennon's ban".
Mr Muirhead also denied being involved in a campaign to post parcel bombs.
He told police: "I could not spell bomb never mind build one."
During the police interview, the accused was played extracts of police surveillance tapes.
Mr Muirhead told officers a recorded conversation he had with co-accused Mr McKenzie about planting a bomb outside a police station was "hot air".
Email address
He also said: "I'm not interested in planting bombs. I wouldn't take anything to do with planting bombs."
The court also heard that during the police interview Mr Muirhead was asked if he had any extreme views. He replied: "Live and let live - it's the way I was brought up.
"My father's Roman Catholic and my mother is Protestant. So I was brought up to respect everybody's view."
Mr Muirhead told detectives he had an email address featuring the number "1972".
He added this was a reference to the year Rangers won the former Cup Winners Cup in Barcelona.
When asked if he watched Old Firm games, he said: "I don't go - I don't see the point of them. They do not interest me."
Mr Muirhead and Mr McKenzie are alleged to have planned to "assault and murder" the Celtic manager, the MSP and the prominent lawyer between 1 March and 15 April last year.
The charge claims the pair sent another suspected bomb to the offices of Cairde na hÉireann (Friends of Ireland) in the Gallowgate, Glasgow.
Both men are also accused of having made and possessed Triacetone Triperoxide with the intent to endanger life.
Mr Muirhead and Mr McKenzie deny all charges.
The trial, before Lord Turnbull, continues.