RCN Scotland wants guarantee on elderly care nurses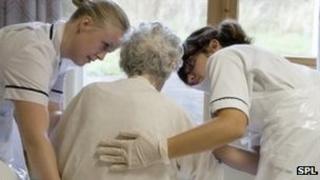 A nursing union has called for a "patient guarantee" on the number of nurses on older people's wards.
The Royal College of Nursing (RCN) Scotland said one nurse to seven elderly patients was the minimum required to meet appropriate standards.
A UK-wide study suggested the ratio was currently one nurse to about nine patients.
The Scottish government said any suggestion older patients were at risk in Scottish hospitals was "wrong".
RCN Scotland director Theresa Fyffe said: "As health boards come under increasing financial pressure to deliver the same services to more and more people, they are saving money when nurses leave by not replacing them or by replacing them with nurses and healthcare support workers at lower paid bands.
"Older people often have more complex health conditions so they must be given the best care by an appropriate mix of qualified nurses and healthcare support workers.
"This is particularly the case if stays in hospital are to be minimised so older people can return home or to a care home as soon as reasonably possible."
She added: "The resulting pressure on staff of health board cuts means that care needs, such as comforting and talking with patients and helping with food and drink, can be overlooked.
"It is time that senior charge nurses, who manage hospital wards, are given the genuine authority to be able to decide their own staffing levels locally on a day-to-day basis, to reflect fluctuating patient need.
"The needs of older people in hospital must not be overlooked as the move to better integrate health and social care services in our communities gathers pace.
"While I welcome the Scottish government's commitment to improving the care of older people, today's RCN report lays bare the need to seriously tackle the issue of staffing levels in our older people's wards and I therefore urge the government to give serious consideration to the patient guarantee of a minimum of one professionally qualified nurse per seven patients."
Older people
A spokesman for the Scottish government said Scotland was "leading the way" in caring for older people, with a major programme of work being carried out to improve the care of older people in hospitals, including patients with dementia.
He added: "This report is based on UK-wide data - there is no breakdown of Scotland-specific data, so we cannot comment on the implications for NHS Scotland.
"Older patients are absolutely not at risk in Scottish hospitals because of lack of nurses and to suggest otherwise is wrong - there are more qualified nurses working in our hospitals now than in 2006.
"While the report focuses on nurse ratios, we also need to recognise the contribution of the wider health care team in delivering better outcomes for patients on older peoples' wards."
Labours' health spokeswoman Jackie Baillie said: "This report highlights the very real consequences the SNP's cuts to the health service are having on Scotland's older people."
Liberal Democrat MSP Alison McInnes said: "This research shows that the loss of nurses is putting a huge strain on the NHS. This loss of skill and expertise threatens the quality of care that patients, especially older and vulnerable patients, can expect to receive."
Age Scotland's policy officer Callum Chomczuk said: "Low staffing levels on hospital wards can seriously compromise older patients' care and dignity.
"What we need is a shift in the balance of care in which resources are focused in the community and on keeping older people healthy, safe and out of hospitals."