Offer withdrawal threat over Ticketus deal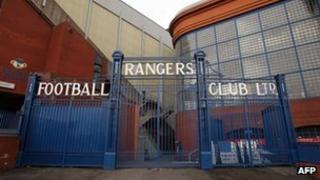 One of the bidders for crisis-hit Rangers has warned it will not pursue its interest in the Ibrox club if the Ticketus season ticket deal is in force, a court has heard.
The club's administrators are seeking guidance on a potential move to breach the contract with Ticketus over season ticket rights.
Agreements with Ticketus were used by Craig Whyte to finance his takeover.
Administrators Duff and Phelps hope to have the deal torn up.
David Sellar QC for the administrators, told the Court of Session in Edinburgh: "Of the four bids, one has said that it will not carry on if Ticketus were involved, by that I mean if the Ticketus contract were in force.
"Given the amounts of money involved that makes perfect sense. If Ticketus is indeed to be paid twenty odd million pounds that does have an effect on a business, which as we know, was loss-making."
Mr Sellar told Lord Hodge: "What would be less than satisfactory is if matters proceeded, through nobody's fault, but proceeded to such an extent that other bidders walked away leaving one bidder in the form of the Ticketus consortium that could then offer as little as possible."
Motives questioned
The counsel said the agreement reached with the players had bought time for the Ibrox club, but he added: "Time is running out."
Ticketus urged the judge not to make a ruling that could lead to Rangers' administrators going back on the season ticket deal.
Ronald Clancy QC questioned the administrators' motives.
Mr Clancy told Lord Hodge that the stated objective of the administrators was to rescue Rangers as a going concern, and they had claimed the agreement was "very likely" to deter potential investors.
But he said: "As of today there are three, possibly four, investment proposals including one involving Ticketus.
"It is impossible to say that none of these could pave the way for the company coming out of administration as a going concern with the Ticketus agreement still in place.
"The real issue behind this application is the desire of the administrators to terminate the contract in such a way that if the company emerges from administration it would not have to be performed."
Mr Clancy maintained that such a breach would not have the effect being sought by the administrators lawyers, "namely the opportunity for the company to come out of administration without having to honour the contracts".
'Not appropriate'
He said: "If parliament had intended administrators should have such a wide power to terminate contracts it would have granted those powers expressly.
"I would suggest it is not appropriate to make any ruling in the present state of play".
Under Mr Whyte's deal with Ticketus, it provided an initial sum of more than £20m plus VAT in May last year in return for the rights to sell Rangers season tickets in the future.
The finance firm has now joined the Blue Knights consortium which is bidding to buy the club.
Lord Hodge said he would try to give an answer to some of the points raised by the administrators later this week.
Meanwhile, a legal technicality over Rangers' status as a club in administration was resolved in a separate case at Court of Session.
Paul Clark and David Whitehouse of Duff and Phelps were originally brought in as joint administrators last month following financial problems at Ibrox.
Their appointment was later found to be invalid as the Financial Services Authority had not given its consent.
Lord Hodge has now retrospectively appointed both insolvency experts as joint administrators at Rangers.
Rangers: What next? BBC Radio 5 live, Monday 19 March, 1900-2100 GMT.