Ex rugby star John Beattie will donate his brain to research
Former Scotland rugby star John Beattie will donate his brain to neuroscience after he dies.
The BBC Scotland presenter took the decision after evidence suggested rugby players' brains may suffer injuries as a result of knocks to the head.
He said he made the decision so that doctors could study any ill effects sustained during his playing career.
Beattie is concerned that bruising encounters on the rugby pitch may have caused unseen damage.
He said one tackle during Scotland's record 33-6 victory over England at Murrayfield in 1986 left him "seeing stars".
Beattie recovered but also recounts an incident when his head was hit by the knee of an opposition player and his "whole world started swimming".
"After the game I remember being in the bath with terrible visual disturbance," he said.
"You're almost blind, thinking 'I've got to sit quietly here because I can't see, and pretend I'm OK, and then wait for it to go'."
The 54-year-old retired from rugby in his late 20s. He was never knocked out or taken to hospital.
Raising awareness
However, he said he was concerned about how the bumps he took as a matter of course over 20 years might have affected his brain.
The former back row forward, who first became concerned while researching the subject for documentary on BBC Radio Scotland, feels that other rugby players need to be more aware of possible damage.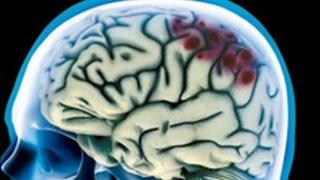 Beattie is currently arranging for a brain scan "in the next few months".
After his death, neuropathologists at the Southern General in Glasgow will carry out a biopsy and attempt to isolate the cause of any brain injuries to rugby, so the risks of playing contact sports might be better understood for future generations.
Dr Willie Stewart, consultant neuropathologist, said: "We've known for years that boxers can have problems with head injuries - dementia pugilistica, or punch drunk syndrome - where boxers develop long-term problems with memory and a dementia-like illness.
"More recently, though, our colleagues in America have encountered a similar type of abnormality in the brains of people who have played other contact sports."
Dr Stewart added: "The brain at rest is like soft jelly. If you apply sudden force, like a knee hitting a head, or a car or a baseball bat, that sudden acceleration changes the brain into something much more rigid and prone to damage."
Sport of Hard Knocks will be broadcast on BBC Radio Scotland at 14:00 on Monday.