New funds to protect rare Loch Lomond grouse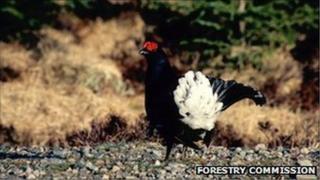 The black grouse population in Loch Lomond and the Trossachs national park is to benefit from funding aimed at boosting conservation.
The population has declined from approximately 50 lekking males in 1999 to around 15 in 2010.
A package worth £720,000 will aim to stabilise and increase the species number.
The measures include moorland management, targeted heath restoration and predator control.
The funding has come from from the Scotland Rural Development Programme and will cover an 8,000 hectare area between Callander and Lochearnhead.
Grant Moir, the national park's director of conservation, welcomed the funding: "Significant effort and investment is required to halt and reverse the dramatic decline of this iconic bird in the national park.
"The funding now enables the land managers we have worked with to implement positive measures that will help black grouse to breed more successfully."
The work this year will include grazing management, bracken spraying, scrub thinning, heather burning, tree planting and fence marking.
Environment minister Stewart Stevenson said: "I warmly welcome the efforts of the land managers in the national park who are collaborating on this project to secure the future of this population of black grouse around Callander and Lochearnhead.
"It shows that with funding from the Scotland Rural Development Programme, we can make significant efforts bringing together public and private sectors to enhance the habitats of our iconic Scottish species."