Rangers administration: Blue Knights and Brian Kennedy confirm bids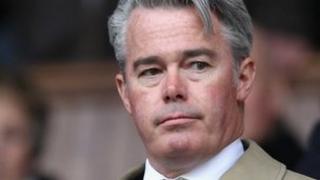 The former Rangers director Paul Murray has confirmed his Blue Knights consortium has made an indicative bid to buy the club.
Sale Sharks rugby union team owner Brian Kennedy also told BBC Scotland his bid had been submitted.
And a further offer is understood to have been received by an American consortium.
Administrators Duff and Phelps had said any interested parties would have to come forward by Friday.
They had required details of funding capabilities and how bidders would deal with the financial issues facing the club.
David Whitehouse of Duff and Phelps said there had been "worldwide interest" which could see more bids submitted even after Friday's deadline had passed.
But he said it was clear all of the prospective purchasers were "looking for clarity on certain issues" before submitting more detailed bids.
He added: "There are complex issues to be resolved and there is no doubt they are having a bearing on the bidding process. At this stage we have indicative and conditional bids only.
"Our next step is to review more thoroughly the bids we have received and to determine which could offer the best return for creditors. We will also consider the terms and conditions that any party has attached to their bid.
"This process will involve further discussions between ourselves and interested parties and will begin early next week with a view to clarifying the content of each offer."
Mr Whitehouse said the key element of the bidding process so far had been to give prospective bidders the opportunity to demonstrate their funding capability.
"We cannot, under our remit, exclude the possibility of a bid by any other party and interest was expressed by a party today suggesting a bid will be made over the weekend," he added.
Mr Murray's Blue Knights consortium includes the finance firm Ticketus, which provided £24.4m for Craig Whyte to mount his takeover of the club in May last year.
The consortium has been backed by fans' representatives including the Rangers Supporters Assembly, the Rangers Supporters Association and the Rangers Supporters Trust.
A statement released by Mr Murray said: "We firmly believe that our bid is in the best interests of the club and its fans.
"We're ready to go, we have the finances in place and we want to get the club stabilised as quickly as possible.
"Like every other Rangers fan, I'd love there to be some certainty about the future of our club before next weekend's Old Firm game. It would provide a massive boost to the team and its fans ahead of such an important game.
"To our mind there is no reason why that can't be achieved - we hope the administrators will agree."
Mr Murray later told BBC Radio Scotland's Sportsound programme he would be the "first to step aside" if a better offer for the club had been made.
Refusing to rule out the possibility of working alongside Mr Kennedy, who he described as a "serious and well-intentioned guy", Mr Murray said the most important thing was that Rangers' eventual owner had the best interests of the club at heart.
'Highest level'
The Blue Knights have set out a range of proposals in their bid, including a fan ownership scheme which it said would enable Rangers supporters to buy their way into the club over time and have a more significant say in its future.
A consultation would also be carried out into how fans can have a closer relationship with the club.
The consortium said it would provide "substantial working capital facilities" to the Ibrox club to enable it to "operate effectively and continue to perform at the highest level of competition".
The Blue Knights also revealed Ticketus would have no ownership in the club but would provide long term financial support to it.
In exchange for the funding it gave to Mr Whyte, who insists he is still the club's owner and a secured creditor, Ticketus received the rights to future season ticket sales.
However,the administrators were at the Court of Session for a second day on Friday, looking for permission to go back on that deal.
Duff and Phelps want to tear up the agreement on the basis that the debt could discourage bidders who may want to takeover the club.
Lawyers for Ticketus claim the deal is legally binding.
Season ticket sales are one of the main sources of income for Rangers, generating about £12m a year.
The administrators claim that even the uncertainty over the rights of Ticketus to that future income was likely to deter potential investors making a realistic offer.