Six Scottish colleges face ban on recruiting foreign students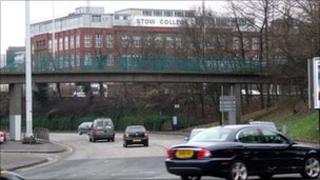 Six Scottish colleges are facing a ban on the recruitment of foreign students after failing immigration rules.
The colleges in question are seeking urgent talks with the Home Office after they were stripped of their trusted sponsor status.
The UK Border Agency (UKBA) said applications from the colleges did not meet the current criteria.
The institutions involved include Anniesland, Stow and Cardonald in Glasgow, along with Motherwell College.
The UKBA is cracking down on colleges which it fears may be getting used as a front for illegal immigration.
The government agency regularly checks on the sponsors of students, and can suspend the licence of a college if it believes it is not fulfilling its duties.
The recruitment of overseas students represents a way for colleges to increase their income, with approximately 2,500 students from outside the EU currently enrolled in Scotland.
Urgent discussions
Some estimates suggest these students can bring in as much as £15m a year in fees.
The move comes at a particularly sensitive time as from next month, only those with highly trusted status can recruit overseas students.
Scotland's Colleges, which represents college principals, confirmed it was seeking urgent discussions with the Home Office.
John Spencer, the organisation's convener, said: "It is easy to understand why these rules exist, but it is nonetheless the case that they end up discriminating against colleges in Scotland.
"The loss of highly trusted status damages the reputation and prospects of the institution in attracting students to study with them."
The UKBA confirmed to BBC Scotland that Cardonald College in Glasgow would not be able to submit another application with regards to trusted sponsor status until September this year.
It refused to comment on the situation with regards to the other colleges involved.
A spokesperson for Anniesland College said it did not currently have trusted sponsor status, but that this was due to an application and not as a result of an inspection.
The college added that it was currently working with the Home office and the UK Border Agency.
SNP MSP Sandra White met representatives from Scotland's Colleges to discuss how they had been affected and is writing to Culture Secretary Fiona Hyslop on the matter.
Ms White said: "Colleges are worried this is going to impact negatively on their international reputations.
"For some, the loss of highly trusted status for these institutions is devastating."
The National Union of Students Scotland has demanded that colleges affected by the UKBA decision quickly provide information and support for their international students.
Robin Parker, NUS Scotland president, said: "The reports of a number of Scottish colleges losing their highly trusted status for taking in international students is incredibly worrying news.
"For those students from outside of the EU in the middle of their courses, this will be a huge cloud hanging over their heads which could harm their studies.
"The colleges involved now need to provide as much information as possible to their international students during this difficult time."