Mary Queen of Scots letter set to go under the hammer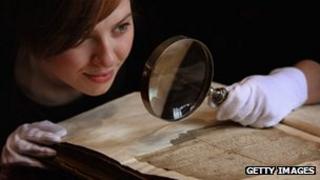 A 450-year-old letter written by Mary Queen of Scots will be put up for sale at an auction next week.
The letter, which was unearthed at Blair Castle, Ayrshire, is said to have been written to the then Laird of Blair, relieving him of his duties at court due to gout.
Dated 14 March 1554, it has been valued at £3,000 and is one of more than 1,000 lots to come from the castle.
The items are expected to fetch a total of about £500,000.
Blair Castle is said to be the oldest continually inhabited mansion in Scotland.
Other items included in the sale are an early 19th Century exercise machine valued at £1,200, a Zeigler carpet valued at £15,000 and a 26-strong set of 19th Century Irish dining chairs, valued somewhere in the region of £20,000.
Centuries of history
The items are being sold by Lyon & Turnbull auctioneers in Edinburgh and its director Gavin Strang said: "The sale has a total estimate of £500,000 and is a unique glimpse at Scottish history through the ages.
"We have 900 years of history for sale and as with any good country house sale there will be pieces long forgotten, that we have uncovered in the attics and cellars of the castle."
Luke and Caroline Borwick, who have just sold the property after living there for 11 years, said: "It's a wonderful place, full of wonderful things, but sadly as we have sold the castle we cannot take them with us."
"Obviously we hope that every single item goes to someone who will treasure them as much as we have."
The public will be able to view the contents at Lyon & Turnbull's sale room this weekend, until the sale which will take place next week on the 14 and 15 of March.