Police help for Dumbarton man wrongly branded 'paedophile'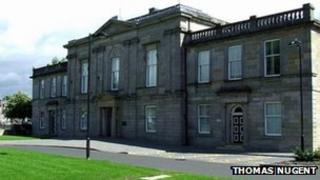 A 22-year-old Dumbarton man has sought police protection after he was mistakenly photographed as a convicted sex offender by a local newspaper.
Jim MacLean's picture appeared on the front page of the Dumbarton and Vale of Leven Reporter under the headline "Beast on the Loose".
The paper mistakenly claimed Mr MacLean was a paedophile from Clydebank.
However, Mr MacLean was simply waiting outside Dumbarton Sheriff Court, when the photo was taken.
In an interview with the Lennox Herald, Mr MacLean said: "There is nothing more offensive than this, it's the most heinous crime of all. I have never been arrested in my life, and now I've been linked with something like this.
"My girlfriend and I are about to become parents, my mum works in a primary school and my dad's a police officer. It couldn't be any worse. I am worried about the repercussions."
Police assistance
It is understood that Mr MacLean has contacted the police and they have installed a panic alarm in his home and given him a personal attack alarm, as well as increased patrols around the family house.
As well as the picture on the front page of the Dumbarton and Vale of Leven Reporter, there was another image inside the paper of Mr MacLean and his pregnant girlfriend Amy.
The couple had just learned that she was expecting a baby girl and wanted to share their news with his father, who was working at the court.
Mr MacLean, who is a shop worker, said: "Amy had her hospital notes with the scan pictures in her hand. We didn't even go inside the court, we stood in the porch and told my dad. My dad was absolutely delighted. We all were. That's why I was smiling in the picture.
"I didn't even know my photograph had been taken. The first I knew about it was when my parents woke me up on Tuesday morning with a copy of the Reporter."
Mr MacLean is believed to have taken legal advice about the matter. The Dumbarton and Vale of Leven Reporter have yet to comment.