Craig Roy jailed for life for murder of schoolboy Jack Frew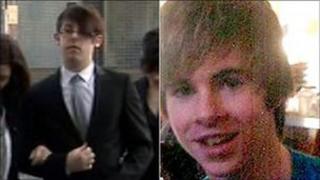 The teenager convicted of the murder of schoolboy Jack Frew has been given a life sentence with a minimum of 18 years in custody.
Craig Roy admitted stabbing the 16-year-old 20 times and slitting his throat in woods in East Kilbride in May 2010.
Sentencing him, a judge at the High Court in Edinburgh described the attack as "brutal, sustained and merciless".
Roy, 19, claimed he had taken a knife to a meeting with Jack to "scare him".
During the trial, the court was told that Roy and Jack were classmates at Duncanrig High School in East Kilbride, South Lanarkshire.
Ferocious attack
The jury heard Roy had cheated on his long-term boyfriend, Christopher Hannah, with Jack and was plagued by guilt over his infidelity.
He admitted stabbing the openly gay teenager but claimed to have no memory of it.
Roy took a knife to a meeting at a wooded area near Wellesley Crescent and Mossneuk Road and launched a ferocious attack on his classmate.
Defensive wounds to his hand showed Jack had fought for his life.
Minutes later, as Jack lay dying, instead of calling emergency services Roy called Christopher, who went to the scene.
Giving evidence during the trial, Christopher said: "Craig had blood all over him. I was worried he was hurt. He wasn't saying anything. He wasn't making sense. He looked bewildered. There was a knife in his hand."
When he went over to Jack he said: "His neck was cut. It was open. I knew he wasn't alive."
Defence dismissed
Roy had claimed that he was unable to deal with anger in public and chose instead to bottle it up and "explode" in private by self-harming.
Three psychiatrists who gave evidence said that while Roy had certain personality traits, he did not have a personality disorder and was not mentally impaired at the time of the killing.
The jury rejected defence claims he suffered from a personality disorder and should be convicted of culpable homicide, and instead convicted him of murder.
In a statement following the conviction at the High Court in Glasgow, Jack's family said his life was "snatched from him" and his good name "tarnished" by Roy.
Sentencing Roy, Judge Lord Doherty said: "You armed yourself with a knife which you brought to the scene of the crime. Using it, you carried out a brutal, sustained and merciless attack which left your victim dead and mutilated.
"In the whole circumstances, the punishment part which I fix is 18 years.
"Whether you are released after serving that period or later will be a matter for the Parole Board in due course, but if you are released back into the community it will be under the conditions of a licence and for the remainder of your life you will be subject to recall to prison if you are in breach of any of those conditions."