SDL holds demonstration in St Enoch Square, Glasgow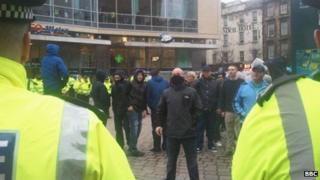 About 200 officers were called out to police a demonstration by the Scottish Defence League in Glasgow.
About 75 members of the SDL took part in the gathering in St Enoch Square.
However, they were met with opposition in the form of about 150 people protesting against their demonstration.
In an open letter, the four Scottish party leaders had urged city councillors not allow members of the far-right SDL to march through the city.
A "static" demonstration was held instead.
No arrests were made.
SNP deputy leader Nicola Sturgeon, and Scots Labour, Conservative and Lib Dem leaders, Johann Lamont, Ruth Davidson and Willie Rennie had said such a march would bring "vile, toxic hate".
The leaders were among 24 signatories to the letter, including Green MSP Patrick Harvie, the Scottish Council of Jewish Communities, the Muslim Council of Scotland and the Church of Scotland.