Citizens Theatre in Glasgow lifts curtain on 50p tickets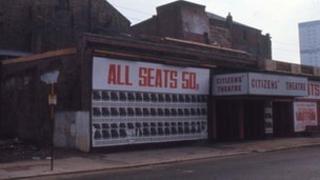 For actor Cal Macaninch it was a primary school trip to see Wee Willie Winkie. For Professor Adrienne Scullion of Glasgow University, it was a pantomime with the Brownies.
And for me, it was a breathtaking production of Juno and the Paycock, with a back close set which filled the entire stage.
For most people in Glasgow and the west, the Citizens Theatre was a rite of passage, its radical reinterpretations of European classics eagerly soaked up by all and sundry.
It helped that this was a somewhat shabby Victorian theatre in the middle of the Gorbals - no airs and graces here. And the 50p ticket deal in the mid-1970s - later 90p - meant the plays on offer were genuinely open to all.
Its had its battles over the years, almost bankrupted after it opened in 1878, subject to a demolition order in the mid 70s, and forced to scale back its production schedule as funding was squeezed.
But like the community in whose heart it sits, the Citizens Theatre is a survivor, constantly adapting and changing.
As the tenements which once flanked the theatre have been torn down and replaced by tower blocks, the Citizens has revamped and refurbished.
The stone statues which once stood in a row on its pillared facade, now dominate the foyer.
Extraordinary theatre
Its auditorium may hold less than half of the 1,200 it once seated, but it retains its glorious Victorian interior and an intimacy not found in many modern theatres.
In true showbusiness style, the show has always gone on, even in the midst of chaos.
When the main auditorium was being refurbished in the early 1990s, the shows were temporarily staged in the round in what now forms the foyer.
That created its own problems. I recall two ladies stage whispering their way out, and tapping Richard the Third on the shoulder to say "sorry son, we've got a bus to catch."
That attempt to put extraordinary theatre in the grasp of ordinary people is to be applauded.
This time round the 50p deal only applies to 100 tickets for three keynote shows but the unemployed and local residents continue to get in for a very modest £2 and the Citizens continues to give thousands of schoolchildren their first taste of live theatre.
The key, as always, is the quality of the work. A 50p ticket may open the door to theatre, but the audience will only come back, at full price, if what they see is as memorable as those shows I mentioned above.
In the hands of new artistic director Dominic Hill, with a season which includes Cal Macaninch in Betrayal and David Hayman as King Lear, it certainly promises to be an interesting year.