Police find sculpture stolen from Glasgow's Kelvingrove Museum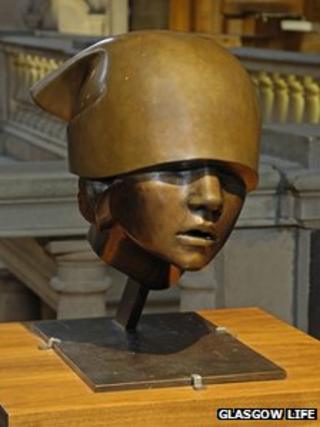 Police have recovered a bronze sculpture valued at £20,000 which had been stolen from Glasgow's Kelvingrove Museum.
Dreaming, by Gerald Laing, disappeared from the museum on Sunday afternoon.
It was found by officers following an anonymous tip-off from a member of the public.
A spokesman for Strathclyde Police said the statue did not appear to have been damaged, and inquiries were continuing into who was responsible for taking it.
Staff at the museum said earlier this week that it was the first time any piece had been stolen from the building since it reopened in 2006 following a major refurbishment.
Laing was born in Newcastle-upon-Tyne and lived on the Black Isle, near Inverness.
He died, aged 75, in November last year.
Laing spent much of the 1960s working in pop art in New York and was a close friend of artists Andy Warhol and Roy Lichtenstein.
His most famous works included images of actresses Brigitte Bardot and Anna Karina.