New voyage for oldest clipper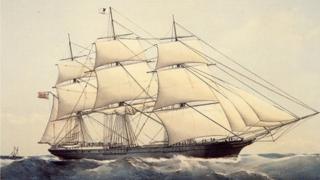 The world's oldest surviving clipper ship The Carrick is another step closer to moving from Scotland to a new home in South Australia.
The parts for a giant steel cradle have arrived in Irvine, North Ayrshire, so it can be transported to Adelaide.
The ship, also known as The City of Adelaide, was nearly broken up because it was rotting away.
Some campaigners wanted it returned to Sunderland, where it was built in 1864, but lost out to the Australian bid.
A 100-tonne steel cradle will be constructed from prefabricated sections to allow the ship to be moved.
Maritime display
Once this is assembled and checked, the hull will be jacked up to allow the cradle to slide underneath.
It is proposed that the clipper will be the centrepiece of a maritime heritage display in Port Adelaide
The ship's original name was the City of Adelaide. It was built to carry people emigrating to southern Australia.
Like another famous clipper, Cutty Sark, it combines an iron frame with a wooden hull.
In 1893 it became a hospital ship, but in 1924 was converted into a training ship at Irvine, and renamed HMS Carrick.
In 1991 the ship sank at the Princes Dock, Glasgow, and lay on the bottom of the River Clyde for a year before being raised and returned to Irvine.
For years it lay rotting on a slipway at the Scottish Maritime Museum, with the cost of repairs put in excess of £10m.
Experts said the restoration required was so extensive, it would be like building a new ship - and suggested breaking it up.
But the proposal provoked a fierce campaign to save it - including an occupation by a councillor from Sunderland.
In 2010, the Scottish culture minister Fiona Hyslop announced the ship would be making a final voyage to Australia.