Loch Lomond traffic blackspot on A82 at Pulpit Rock to be removed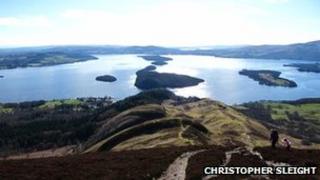 A notorious traffic congestion blackspot on the banks of Loch Lomond is to be removed.
The work at Pulpit Rock on the A82 will get rid of traffic lights which have been there for 30 years.
Transport Minister Keith Brown said the upgrade would enable the free flow of traffic in the area.
It will form part of a major upgrade to the road, which connects the central belt to the Highlands.
The A82 starts in the west end of Glasgow and ends in Inverness, where it links to the A9.
Mr Brown said the work would include a new section of two-lane carriageway, a viaduct running parallel to the loch shore for 180m and the widening of the existing carriageway.
'Important milestone'
He said: "The Scottish government is committed to upgrading the A82, as set out in the Infrastructure Investment Plan. The route sits in one of the most unique and challenging landscapes in Scotland.
"It is important that we carefully plan a solution that fits well with the geographical challenges of this route and better connects the businesses and communities in the Highlands and Islands with those in the central belt, while maintaining the renowned beauty of the area."
The construction project is expected to last a year and cost £11m.
Mr Brown added: "This is an important milestone and signals a step forward with this long-awaited scheme. However, infrastructure projects such as this are huge undertakings and simply do not, cannot, happen overnight.
"The work involves considerable design and development work, which is absolutely essential to get the right scheme at the right price and keeping impacts on communities and businesses to the absolute minimum.
"Scottish ministers remain committed to improving the traffic-flow situation at Pulpit Rock and will continue to progress the scheme with a view to completing it at the earliest possible opportunity."
Water-based environmental surveys will be carried out next week on the west bank of the loch between Tarbet and Inverarnan.
They are part of a programme of engineering and environmental surveys on this stretch of the route, which Transport Scotland said will help inform the next stage of design work on the A82.