Suzanne Pilley murder trial hears from boyfriend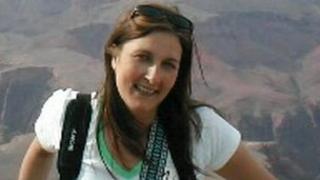 The trial of the man accused of murdering missing Edinburgh book-keeper Suzanne Pilley has been hearing from the man she was seeing at the time of her disappearance almost two years ago.
Mark Brooks, 41, told the High Court that he met Ms Pilley on an internet dating site.
He said they had been on two dates and had spent the night together at his flat the day before she went missing.
David Gilroy, 49, denies seven charges, including the murder of Suzanne Pilley.
Suzanne Pilley's body has never been found.
Mr Brooks told advocate depute Alex Prentice QC that Suzanne, who was 38, had taken a bottle of gin to his house in Edinburgh the evening before she disappeared in May 2010.
He also said Suzanne appeared to be enjoying herself on the date but that they did not have sex.
In the days leading up to the date, the court heard how Mr Brooks thought Suzanne had problems in her love life.
But Mr Brooks said that on the night in question, he felt Suzanne was having a nice time with him.
He told the court: "She indicated that she was going to switch off her phone. She was going to text her mother to make sure her cat was okay.
"It was a pleasant experience. We were joking and chatting. We ended up on the couch watching a film and we fell asleep."
The court heard how the following morning, Mr Brooks gave Suzanne a lift back to her home in Whitson Road, Edinburgh, just after 06:45 on 4 May.
Mr Brooks said he then dropped her off about 200 metres from her property and drove to his work in Livingston, West Lothian.
She waved him goodbye. Mr Brooks said: "She seemed very happy."
Mr Prentice asked: "Was that the last time that you saw her?"
Mr Brooks responded: "That was the last time I saw her."
Locks changed
Earlier, Suzanne Pilley's mother told the court about her daughter's "turbulent" relationship with Mr Gilroy.
Sylvia Pilley, 69, said Suzanne had an "on-off" relationship with the married father-of-two.
Giving evidence on the second day of the trial, Mrs Pilley said her daughter had changed the locks on her flat shortly before Christmas 2009.
She told the High Court in Edinburgh that this followed an incident in which Mr Gilroy had thrown Ms Pilley's possessions out of the kitchen window of the flat.
Sylvia Pilley said: "He really acted quite strange. He lived in the house but said he would not go into the house unless she was there.
"It was always like a turbulent relationship. It was on and it was off.
"She was always packing his clothes to send him away and he was apologising and coming back.
"The relationship went on like that."
Final text
Mrs Pilley said that about 08:30 on 4 May she received a text message from her daughter in which she thanked her for feeding her pet cat, Mercury, and said: "I think Mark likes me."
She said that day was to be a normal working day for her daughter, but she later got a phone call about 12:45 saying that she had not arrived at her office.
Another of the charges against David Gilroy alleges that on 9 November 2009, he assaulted Scott Stewardson and threatened to stab and kill him.
Mr Stewardson, 26, who lived in the same flats as Suzanne Pilley, said he was at home when he heard banging noises and an outside light went on and he went out to confront a man.
He said he asked him what he was doing in his garden but was told to mind his own business.
He said the man had car keys and said: "I will stab you if you don't go away."
The trial before Lord Bracadale continues.