Pilley murder charge man in court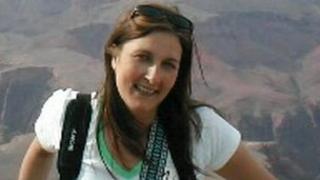 The trial has started of a man accused of murdering book-keeper Suzanne Pilley almost two years ago, and attempting to conceal the crime.
David Gilroy, 49, denies killing Ms Pilley, who was 38, in Edinburgh or elsewhere in Scotland.
Prosecutors allege he tried to defeat the ends of justice, taking various steps to avoid detection, arrest and prosecution for the alleged killing.
Suzanne Pilley's body has never been found.
The murder charge alleges that Gilroy, also from Edinburgh, assaulted and injured Ms Pilley by unknown means in Thistle Street, or elsewhere, resulting in her death.
A further charge of attempting to defeat the ends of justice is broken into sub-sections.
They include claims that he bought air fresheners on 4 May 2010 and repeatedly visited the basement and garage areas of the Infrastructure Management offices in Thistle Street, Edinburgh, that same day when there was no need for him to do so.
It is alleged he visited Lochgilphead High School in Argyll on 5 May when there was no requirement for him to do so and asked for bin bags which were given to him.
Dating website
He is accused of trying to cover up injuries on his hands with make-up at Lothian and Borders Police headquarters and elsewhere.
It is also alleged he repeatedly told police his relationship with Ms Pilley ended in December 2009 when the truth is that it continued and he wanted it to continue further.
He is further accused of telling officers he saw Ms Pilley two days after he allegedly killed her.
Prosecutors also accuse Gilroy of accessing Ms Pilley's email account between 24 August 2009 and 30 April 2010 and accessing her account on an internet dating website.
Gilroy faces other charges, including an allegation that he assaulted his wife Andrea on various occasions between 1 January 2009 and 18 May 2010.
He is also accused of threatening two children, who cannot be named for legal reasons, and assaulting a man named Scott Stewardson in Edinburgh on 9 November 2009.
The first witness to be called was Suzanne Pilley's mother, Sylvia Pilley.
She identified David Gilroy as the man who had been in relationship with her daughter, and who had moved into Suzanne's flat in 2009.
The court was shown a picture of Suzanne at a charity event and her mother confirmed that she was 38 in May 2010, when she was last seen.
David Gilroy denies all the charges against him and the trial before Lord Bracadale continues.