Student admits splattering Nick Clegg with paint in Glasgow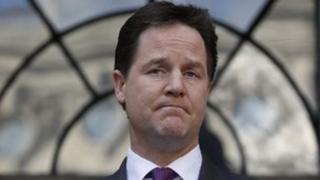 A former Liberal Democrat activist has admitted splattering Deputy Prime Minister Nick Clegg with blue paint.
Stuart Rodger threw an egg containing the liquid as Mr Clegg made a visit to Glasgow to meet party representatives last August.
The politics student later declared that Lib Dem leader Mr Clegg had "deserved it".
He was fined £200 at Glasgow Sheriff Court after admitting a breach of the peace.
The incident happened when Mr Clegg arrived at a question and answer session with Lib Dem members at Woodside Hall in the city's west end on the evening of 25 August.
Scottish Lib Dem leader Willie Rennie was also hit by the paint.
Rodger, 23, from Inverkiething, Fife, carried out the attack because he was unhappy at the Lib Dem's coalition with the Conservatives.
He told the media after the court hearing: "I stand by what happened that evening. He deserved it."
The court earlier heard how Rodger had been "shouting aggressively" as he sprinted towards Mr Clegg's car as it arrived at the hall.
Prosecutor Linda McCaffer said: "Police tried to stop the accused and, as they did so, he produced an egg which was concealed in his right hand. This contained blue paint.
"The accused threw this towards Nick Clegg, who by this time was making his way into the building."
The egg struck a pillar causing the paint to come into contact with Mr Clegg, whose face and suit were splattered.
The deputy prime minister dismissed the incident at the time, saying: "These things happen. It's not a big deal."
Rodger - a third-year student at Glasgow University - was later arrested and told police: "It was purely accidental. It was designed to hit Nick Clegg."
His lawyer, Clare Ryan, told the court Rodger was a Lib Dem activist who had been "particularly upset" at the party teaming up with the Tories after the General Election in 2010.
She added: "He was really against the coalition, but that does not give him the right to offend. He was protesting on that day, but he accepts that he crossed the line."
Miss Ryan said Rodger was "not likely to behave like this again".
Sheriff Brian Adair told the student: "This country prides itself in free speech and protesting within limits, but your actions were criminal."