Rangers administration: 'New information' on Rangers deal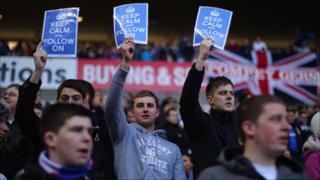 Administrators say they have new information on the takeover and running of Rangers which will help form a full picture of club finances.
Paul Clark, a joint administrator from Duff and Phelps, was speaking as thousands of fans packed out Ibrox in support of the troubled club.
Mr Clark said the transaction details had become available overnight.
He said the information was being assessed and details were expected to emerge in the week ahead.
The administrator also stressed that he believed HM Revenue and Customs would work with his firm for the survival of Rangers.
A first half goal from Kilmarnock and a sending off for Rangers saw the Glasgow club lose 1-0 on Saturday.
In a briefing ahead of the Scottish Premier League game, Mr Clark said he expected to make an announcement next week regarding the new information relating to the club's finances. This came from solicitors who have previously been connected with the club.
Rangers were forced to call in administrators on Tuesday over an unpaid tax bill of £9m accrued since Craig Whyte's takeover in May.
Last week, the administrators revealed they did not have "visibility" of £24m which had come from a deal on future season ticket sales with the firm Ticketus.
Mr Clark said: "We have received some information overnight in relation to various monies and various transactions in relation to Rangers Football Club.
"We're going to be looking at all of that information over the coming days and we expect to give some form of announcement during the course of next week.
"But, at the moment, from the financial side of things, we are still working so that we can prepare a proper statement for delivery next week."
Pressed on the nature of the new information, he added: "It's in relation to several transactions in relation to the takeover and other issues in relation to the financial affairs of the football club over the past few months."
Mr Clark said he had been in discussion with HMRC on Saturday morning, as part of ongoing talks.
The club is also involved in a tribunal over a disputed tax bill dating back to before the Whyte era which totals an estimated £49m.
A ruling on this is expected in the coming weeks, but the administrators revealed it was likely to be April before Rangers find out the outcome of the HMRC case.
Mr Clark added: "What they asked us to point out is that had they wished to close the football club then rather than issue the administration application that they did last week, it would have been a winding up petition to the court.
"So this is not about liquidation, it's about survival of the football club and we'll be working with them with that in mind."
Tens of thousands of fans turned out in a show of unity at Ibrox, packing the 50,000 seat stadium to capacity.
Supporters held up banners in support of manager Ally McCoist and criticising former and current owners of the club.
However, the supporters left disappointed after their team failed to come back from going a goal down.