Rangers administration: Craig Whyte says he has 'nothing to fear'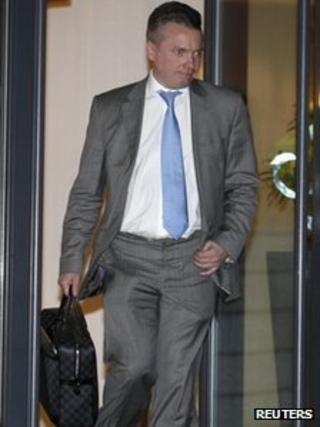 Craig Whyte has said that "every penny" which has come in and gone out of Rangers under his ownership has been "properly accounted for".
Mr Whyte said he was now taking a "step back" and would not attend Saturday's match against Kilmarnock at Ibrox.
He added that he had "absolutely nothing to fear" from any inquiry into his purchase of the club.
Meanwhile the Scottish Football Association is to conduct its own inquiry into the activities of Rangers.
A statement from the SFA said it was "concerned by the developing situation at the club and the new information that has come to light since the appointment of the club administrators, Duff and Phelps."
It continued: "The Scottish FA's previous efforts in obtaining information relevant to the Fit and Proper Person requirement has been restricted by the club's solicitors' continued failure to share information in a timely or detailed manner.
"We now feel there is no option but to undertake an independent inquiry to establish the clear facts and to determine the extent of any possible rules breaches."
The Scottish Premier League club went into administration on Tuesday, with HMRC pursuing an unpaid £9m tax bill accrued since Mr Whyte assumed control at Ibrox in May.
Questions have also been raised as to whereabouts of £24m paid to the club by the firm Ticketus for future season tickets.
Administrators Duff and Phelps revealed at a press conference on Thursday they did not have "visibility" of where that money had gone.
In a statement on the Glasgow club's website, Mr Whyte described the events of recent days as "traumatic" but insisted he had always acted in Rangers' best interests.
The former owner said he was "100% confident" administrators would prove that all money that had come in and gone out of the club during his tenure has been properly accounted for.
He added: "I wish to state categorically for the record now that I personally have not taken a single penny out of Rangers since I became chairman and have paid all my expenses from my own funds."
His statement comes after it emerged on Thursday that former Rangers chairman Alastair Johnston has asked the Crown Office to investigate Mr Whyte's acquisition of the club.
In his statement, Mr Whyte said he fully understood fans' anxiety and that safeguarding the future Rangers remained his intention.
He said: "The traumatic events of the last few days have, understandably, led to a great deal of angst and uncertainty as well as firestorm of media speculation, much of it ill-formed and some of it downright malicious.
"That an internationally-renowned institution such as Rangers should find itself in administration is bound to create shockwaves, particularly among the club's magnificently-loyal fans, and I fully understand their anxiety.
"The decision to call in the administrators was painful but it was the right thing to do."
Commenting on the news that information had been passed to Strathclyde Police and a call made for an investigation into his takeover of Rangers, Mr Whyte said: "I have absolutely nothing to fear because any fair investigation will prove that I have always acted in the best interests of Rangers and been involved in no criminal wrong-doing whatsoever."
The chairman said he wanted to let the administrators get on with their work, so was taking "a step back".
He added: "Regrettably, I will not be attending tomorrow's match against Kilmarnock. Although I would dearly love to be at Ibrox for the game, my priority is, and will continue to be, to assist the administrators in any way I can to bring this process to as speedy a conclusion as possible."
'Further stability'
David Whitehouse of administrators Duff & Phelps said: "Craig Whyte has co-operated with us since our appointment as administrators and we believe his announcement brings further stability to the situation as we conduct the administration of Rangers' business.
"As administrators we will continue to ensure the club's business is run seamlessly as a plan to exit administration is developed."
In another development, Ticketus, the firm that paid Rangers £24m for season tickets has issued a statement clarifying its position.
Octopus Investments, which owns Ticketus, stressed that it bought the tickets and did not lend the money.
The statement said: "Ticketus is one of the many entities into which Octopus Protected EIS invests.
"Ticketus has purchased tickets for Glasgow Rangers games for a number of seasons in advance, as it has done for a number of years previously with the club.
"Ticketus does not lend money. Ticketus is the owner of assets - the tickets."
The firm said it was continuing to work with the administrators and Rangers on the matter.