Probe into Strathclyde fire chief Brian Sweeney's job deal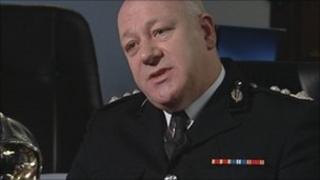 The public spending watchdog has launched a probe into how one of Scotland's most senior fire chiefs retired, before getting his job back.
Brian Sweeney stepped down as Strathclyde's chief fire officer last July, giving him access to his lump sum pension payment.
A month later, he was re-hired to continue in the same job.
The Accounts Commission has now asked the fire and rescue service to justify its decision.
Mr Sweeney, who became chief officer at Scotland's biggest fire and rescue board in 2004, retired on 14 July, 2011. He was then re-employed on 14 August, for three years.
The commission has now asked for more information on the arrangement.
The board also agreed to set aside £235,000 to meet so-called "unauthorised payment charges" levied because Mr Sweeney retired before the age of 55 - £206,000 of which amounted to the penalty the fire chief himself was liable for.
The arrangement does not give Mr Sweeney access to his annual pension, which has been suspended as long as he remains in his job.
Accounts Commission chairman John Baillie, said: "We have decided to seek further evidence and clarification from the controller of audit on the arrangements made by Strathclyde Fire and Rescue for its chief fire officer's retirement.
"We are interested in the process by which the fire board reached its decision."
The watchdog made its move after an audit by PriceWaterhouseCoopers expressed concern over the move.
However, the board said this report had "failed to provide a balanced or even accurate view in relation to the section about the chief officer's retirement and re-employment".
Mr Sweeney is seen as a frontrunner in the job to lead Scotland's new national fire and rescue service, which the government plans to create by merging the current eight regional services.