John McFall wants FSA to probe Rangers takeover deal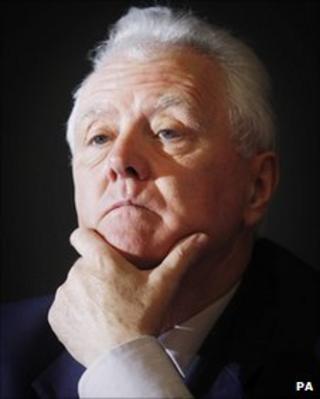 The former chairman of the Westminster treasury select committee has called for the financial regulator to probe Craig Whyte's takeover of Rangers.
John McFall said the Financial Services Authority (FSA) could help answer questions about an apparent shortfall of cash at the Ibrox club.
Rangers appointed Duff and Phelps to act as administrators on Tuesday.
The firm has denied having any conflict of interest arising from its links to Craig Whyte prior to his takeover.
Rangers was placed in administration on Tuesday after a legal stand-off at the Court of Session in Edinburgh.
Owner Craig Whyte lodged papers at the court on Monday indicating that the club was considering administration within 10 days.
When HM Revenue and Customs (HMRC) - one of the club's main creditors - filed to have its own administrator appointed on Tuesday, both parties agreed that Duff and Phelps would be appointed.
Joint administrators Paul Clark and David Whitehouse, from Duff and Phelps, later confirmed HMRC's action stemmed from the alleged non-payment of £9m in VAT and PAYE dating back to last year when Mr Whyte bought the club from Sir David Murray.
Angry fans have since demanded answers from Mr Whyte over what has happened to all the cash which has apparently passed through Rangers since then.
Mr Whyte claims to have injected £33m of his own money to pay off the club's bank debt and fulfil the other obligations of the takeover.
Ticketus borrowing
Going on previous seasons, Rangers income for the nine months Mr Whyte has been in charge should be about £26m.
It has also been reported that he borrowed about £24m from Ticketus against a share of season ticket sales for the next four years.
The club is also said to have received about £5m for the sale of top goalscorer Nikica Jelavić to Everton in the January transfer window.
The combined total of these figures is £55m.
Mr Whyte has publicly stated that the monthly cost of running Rangers is about £3.75m.
Based on this figure, the cost of running the club during Mr Whyte's tenure would have been about £34m.
In theory, that should leave a surplus of £21m.
If the £9m figure claimed by HMRC over alleged unpaid VAT and PAYE is added, then the surplus cash figure would stand at £30m.
Working with these figures, some fans have been asking why Rangers was placed in administration.
John McFall, the former Labour MP who chaired the House of Commons treasury select committee, said the matter should be investigated by the Financial Services Authority.
He said: "When you spend money you don't have and you use HMRC and the taxpayer as your private bank then it has tragic consequences for Rangers as an institution, Scottish football, fans and for Scottish community.
"Rangers are on the stock exchange and there is a renewed case for the FSA looking at this issue. Parliament is just giving the FSA the opportunity to have what's called judgemental discretion. That means looking at the business models of institutions and Rangers is a good case.
"Did the directors do their duty? And, if they did their duty legally, were there any corners cut as a result of that?
"It's the taxpayer who's on the hook here and the taxpayer has got to be paid and football clubs have got to realise that they have got to comply with the regulations that are laid down by parliament and HMRC.
"There's lots of questions around here, there's no specific answers so the case for a renewed investigation by the FSA is something that supporters and those with an interest in Rangers should be looking at as well."
Previous board
Meanwhile, it has emerged that David Grier, a partner at Rangers administrators Duff and Phelps, was centrally involved in Craig Whyte's takeover from previous owner Sir David Murray.
As emails obtained by BBC Scotland show, he even assured the previous board that Mr Whyte's bid had already secured a "time to pay" deal with HMRC.
This has led one academic to raise concerns over the appointment of Duff and Phelps as Rangers' administrators.
Steven Morrow, senior lecturer in sport finance at Stirling University, said: "If there is evidence of a prior relationship between those involved in an administrative capacity and the directors of Rangers Football Club, then I think that would raise concerns among some of the creditors.
"This is because the role of the administrator is to be independent, to look after the interests of all the creditors, not to be seen to have any particular interest in one group of creditors.
"Their job is to try to make sure the organisation is a going concern but protect the interests of all creditors and that's what the process is about."
Duff and Phelps has denied any conflict of interest in acting as administrators.
In a statement, the firm said: "The appointment of D&P was approved by the Court of Session in Edinburgh and the appointment was agreed to by HMRC.
"Indeed, HMRC withdrew their application to have an administrator of their choice appointed and are now engaging with D&P as the administration progresses.
"There is no conflict of interest whatsoever as it is standard practice for companies to appoint their own administrators, who usually have provided advice on restructuring in the build up to an insolvency."