Declan Hainey death report identifies 16 areas for improvement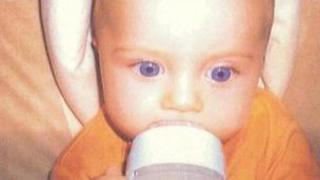 A report into the role of social workers and health care staff in the case of murdered toddler Declan Hainey says things "could, and should have been done differently".
Drug addict Kimberley Hainey, 37, was sentenced to a minimum of 15 years for killing her son at their Paisley home.
Renfrewshire Council and the NHS commissioned a significant case review after his body was found in 2010.
The findings were held back until criminal proceedings were completed.
The local authority said it had already taken action to address areas of concern raised in the report.
The most fundamental of the recommendations said excuses for missed appointments should not be allowed to develop into "a pattern of concealment" which prevents child protection professionals seeing a vulnerable child.
Kimberly Hainey, a recovering heroin addict, repeatedly failed to attend appointments with her drugs counsellor and came up with excuses why drugs support workers could not visit the home she shared with Declan.
The independent report was commissioned by Tim Huntingford, the chairman of the Renfrewshire Child Protection Committee (RCPC), jointly with Renfrewshire Council and NHS Greater Glasgow and Clyde.
Dr Zoe Dunhill, a consultant paediatrician, and Mr Jim Cameron, a former chief social work officer, were appointed to conduct the review.
Mr Huntingford said: "We considered it essential to examine urgently the role of all the agencies involved in this case. This review was carried out before the criminal trial was concluded.
"The intention was to make sure that any changes that were required were put in place without delay.
"The outcome of the trial squarely placed the responsibility for Declan's tragic death on his mother. Despite this, there were undoubtedly things that could, and should, have been done differently."
Hainey was convicted of murdering Declan following a six-week trial at the High Court in Glasgow.
She was also found guilty of neglecting her son, failing to report his death and of attempting to pervert the course of justice by concealing his body at the flat.
The cause of his death is not known. He is said to have been last seen alive when he was 15 months old.
Declan's decomposed and mummified body was discovered in his cot on 30 March 2010.
Mr Hunt added: "In the first year of his life, Declan was developing perfectly normally and all the pictures of him show a happy little boy. His mother was also making significant progress in addressing her issues. There were no unexplained injuries, no catalogue of visits to A&E.
"It was in the second year of Declan's life that his mother began to weave a web of deceit to prevent anyone - family, friends and neighbours, as well as health and social care agencies - seeing Declan.
"Since we do not know, and will never know when or how Declan died, we can't say that if things had been done differently Declan would still be alive. However, we fully accept the recommendations in this report."
The report outlines 16 recommendations for improvement in relation to areas including how referrals for pregnant women with substance misuse concerns should be made and responded to; staff training; contact levels with children; recording; sharing information; monitoring practice and steps to be followed when a case is closed.
It said there should be an initial child protection case conference arranged in all cases of children being born to drug-using parents, which a health visitor should attend.
The report also urged that GP records should be made available as they are likely to be the most accurate source of the medical history of a substance misusing parent.
Scottish Labour said there were "systematic failures in child protection" beyond Renfrewshire and called for the Scottish government to order an independent, wide-ranging inquiry into how vulnerable children are protected.
Local Labour MSP Neil Bibby, who had previously called for an independent investigation into Declan Hainey's death, said: "This independent report paints a shocking picture of failure and of staff in health and social work, including at senior management level, being unaware of proper process and untrained in their responsibilities.
"It beggars belief that the 'focus of work' for all agencies and staff seems to have been Ms Hainey with 'little or no consideration' of the impact of her actions and lifestyle on the health and welfare of Declan."
He added: "While this is a thorough report, there needs to be an independent assessment of Renfrewshire Council's failures."