Appeal over Tommy Sheridan damages victory remains frozen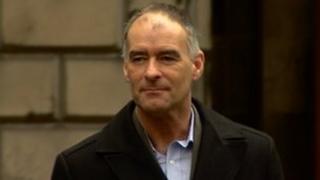 Tommy Sheridan has claimed victory in the latest round of his seven-year legal battle with the News of the World over articles about his private life.
The now defunct newspaper's publisher is appealing the decision to award Mr Sheridan £200,000 in damages in 2006.
The case has been on hold pending police investigations.
News Group had asked for the appeal to be reopened but three judges at the Court of Session in Edinburgh refused the motion.
The former Scottish Socialist Party leader, who has not yet been paid the damages money, was later found guilty of lying in that defamation case.
He was recently released from prison after spending one year of a three-year sentence in jail.
News Group challenged the defamation damages award but the appeal was frozen during the criminal perjury trial.
Phone hacking
Judges were asked to reopen the appeal by News Group solicitors in light of the perjury conviction.
Sheridan's legal team argued the case should remain frozen - technically called sisted - until police investigations into alleged phone hacking and other practices can conclude.
After a short hearing at the Court of Session, Lord Clarke said: "The appropriate course is to refuse the motion to recall the sist."
Speaking outside the court, Mr Sheridan said: "We will wait for the outcome of that investigation and then look forward to coming back to this court to fight for the upholding of the original jury verdict in this trial."
He added: "If it was a boxing match, it would be round one to us."
His solicitor, Aamer Anwar, said Strathclyde police were looking at allegations of phone hacking and data protection breaches in Scotland.
He said: "We expect that inquiry to take place for another several months or so.
"We do not know what the outcome of that investigation will be but the News of the World will simply have to wait until that investigation is completed.
"The shoe is on the other foot this time around. News of the World is now defunct and they are presently facing massive investigation north and south of the border."