Profile: Rangers owner Craig Whyte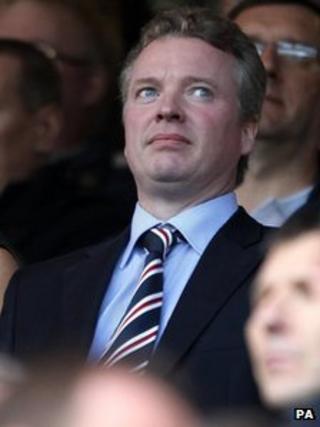 Venture capitalist Craig Whyte acquired a controlling stake in Rangers Football Club in May 2011.
Mr Whyte did a deal for Sir David Murray's 85.3% shareholding, replacing him as majority shareholder of the Scottish champions.
The takeover was completed for a nominal sum of £1, with Mr Whyte pledging to pay a debt of £18m to Lloyds Bank, but concerns were expressed by board members about his ability to invest sufficient funds into the Glasgow club.
The 40-year-old Motherwell-born businessman said at the time: "As a keen Rangers supporter, I now look forward to helping the club secure its future as a leading force in Scottish and European football."
However, concerns and questions about Mr Whyte's handling of the club and his investment strategy continued to follow the deal.
It had previously emerged that a £49m tax liability was hanging over Ibrox, a figure which Mr Whyte has now warned could be substantially more.
This relates to a player-payment scheme which HM Revenue and Customs suspected was a scheme to avoid payment of taxes.
Business dealings
Mr Whyte addressed claims that the club could become insolvent as a result of the tax bill, admitting that it could have serious consequences, but insisted he was confident of winning the case.
That case, which covers a scheme which pre-dates Mr Whyte's ownership, is still running and the HMRC is expected to announce a ruling in the coming weeks or months.
As financial issues began to become more complicated, focus was also brought on Mr Whyte's business career.
Evidence of alleged criminality in his past business dealings were uncovered by a BBC Scotland investigation last October.
It found that Mr Whyte had been banned from being a director for seven years, something which he had not revealed.
Mr Whyte reacted angrily to the documentary, withdrew the club's co-operation from the BBC and threatened to sue the corporation, but so far no legal action has been raised.
He confirmed he had been banned as a director. Investigations were launched by the Plus stock exchange, on which Rangers shares are listed, and the Scottish Football Association.
The results of those investigations are yet to be published, but the club has since had its trading on the market suspended.
'Hour of need'
There was also trouble with personnel behind the scenes at the club, with finance director Donald McIntyre resigning and the suspension of chief executive Martin Bain.
Both were involved in legal cases against Rangers, which saw a judge ringfence the club's cash.
Rangers' non-executive directors John Greig and John McClelland have both also resigned and director Dave King is reported to have been forced out.
Chairman Alastair Johnston and director Paul Murray also left the club after Mr Whyte took control and Mr Johnston has since been vocal in raising concerns about Rangers' financial situation.
At the end of last month it emerged that the club had borrowed against future season ticket sales.
Mr Whyte insisted cash to buy Rangers had come from his own companies and described as "not true" newspaper claims that Rangers owed £5m in VAT.
He said: "I can categorically assure supporters that when I launched a takeover bid for the club it was funded entirely from one of my companies and that was demonstrated clearly to the satisfaction of the previous owner, Lloyds Banking Group and professional advisers."
The chairman also directed fire against previous board members, including Mr Johnston.
He said: "I simply ask Rangers fans what these men did for Rangers in the club's hour of need?
"They were all talk and no action and presided over the club as it careered to the brink of financial collapse."
The question for Mr Whyte is now what course he can steer to avoid that potential financial collapse.