Q&A: Rangers and administration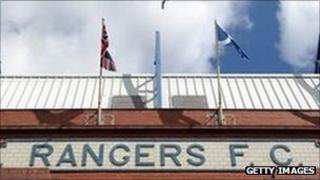 Rangers Football Club has appointed administrators to deal with the financial crisis at the club.
It follows an unsuccessful legal bid by HM Revenue and Customs to appoint its own administrator.
The move comes while Rangers awaits a tax tribunal decision over a disputed bill, plus penalties, totalling £49m.
BBC Scotland's business editor Douglas Fraser looks at what administration would mean for the club.
What is administration?
A company that can't pay its bills on time is insolvent, even if it's worth a lot in assets.
Creditors or directors appoint administrators, who are accountants qualified to handle the insolvency process. They go to court, where the clerk certifies their appointment.
Administrators are then in charge of the company and, while they're in charge, creditors cannot expect to get payments they expected.
Their first task is to use available cash to keep the company trading. They should also inform all creditors what has happened, as quickly as they find out who they are.
Administrators then seek to find a compromise between creditors that maximises the value they can salvage from the assets. These are sold on, if a buyer can be found.
Sometimes the buyer is the previous management, operating under a different company name. If the company can't keep trading, it is liquidated - meaning it's closed down and the assets sold, often cheaply.
So why is Rangers insolvent?
If creditors want their money back, they may be able to call in the loans. And if they can't be paid, they can force the company into administration.
Craig Whyte was owed £18m by Rangers when he took on the bank debt last May, and he could choose to take that path.
Don't confuse this with his role as owner of 85% of the company's shares, or as chairman.
He bought the shares from Sir David Murray last May for £1, but he took on £18m of debt from Bank of Scotland, along with the tax liability. It's his role as creditor rather than shareholder that has led to administration.
It is probable that Craig Whyte could have chosen to continue to hold that debt. He previously said he intended to wipe it out, thus increasing the value of his shares.
But there's a much bigger tax liability, originating 10 years ago from an offshore players' trust. It's unpayable if a tax dispute over the £49m bill is lost at a tax tribunal.
Going into administration is one way that Whyte could avoid at least some of that tax debt, and still salvage the club's assets.
What are Rangers assets and liabilities?
The assets include Ibrox stadium in Govan, some land around it, Murray Park training ground (in a more valuable area for redevelopment north of Glasgow), those players who can be sold on, the brand, the league registration, the flow of revenue from broadcast rights, and the rights to sell club merchandise and catering at the stadium.
The liabilities include two tax bills, both in dispute, more than £18m owed to Craig Whyte, and probably numerous smaller amounts owed to suppliers of goods and services.
It's worth noting the difference between secured creditors, who have what's called a floating charge or claim against specified assets (the value of assets floats), and unsecured creditors.
A secured creditor has claim to assets held by the company, and that person takes priority over other creditors (though they take lower priority than the payment of employees). We can assume Craig Whyte's debt is secured.
What's likely to happen next?
Craig Whyte could emerge with control of the assets.
He would get them in lieu of the debts he's owed, then setting up a new company and becoming owner of the Rangers brand, team and stadium but under a different holding company - perhaps one he already owns, perhaps a new one.
What happens to the other creditors?
They have to wait in line. The administrator gives priority to paying off the secured creditor's debt, and unsecured creditors are then awarded a share of whatever else can be realised from the assets, proportionate to their share of the total unsecured debt.
This includes HM Revenue and Customs. If a division of asset value can be agreed by 75% of creditors (by value), it's called a Creditors Voluntary Agreement (CVA).
Shares in Rangers, including the 15% not owned by Craig Whyte, would probably be worthless, as shareholder compensation takes lower priority than that of creditors.
What happens to the players?
The players are employees and, if they can be sold on, they're also assets. Their contracts remain intact.
If there were a lack of cash available, it may be impossible to meet payroll costs, and redundancies would follow.
This is less likely in a pre-arranged administration. To cut costs, the administrator could make unwanted players redundant, or sell some to raise funds.
There is a tension between the rules of football's ruling bodies and employment law as to whether a player's compensation takes precedence over other creditors. A legal test case in Portsmouth ruled that it should.
If players are not compensated, Rangers could find itself penalised by the game's administrators.
What difference will the fans see?
Possibly very little, other than an automatic 10-point deduction in the Scottish Premier League.
The playing squad may be thinned out, but it's in everyone's interests to keep the team playing as normal and cash coming in.
Is there a catch for Craig Whyte?
Someone else could compete to buy Rangers' assets out of administration.
HM Revenue and Customs could mount a legal challenge to a move by Mr Whyte to take over the club's assets, as there are areas of the law the tax authority is keen to test.
And there could be problems with the rules of the Scottish Premier League and Scottish Football Association, which could remove Rangers' registration and right to compete in Scottish football - for instance, if HMRC challenges Craig Whyte and there is no Creditors Voluntary Agreement.
In those circumstances, Rangers' new owners would want the rules waived or changed - and it's not clear how other clubs would vote in the approval process.