Amarone Restaurant siege in Glasgow City Centre ends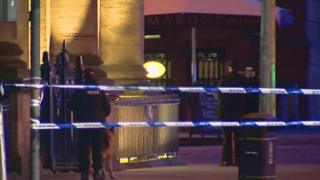 A man is being held after armed police stormed an Italian restaurant in Glasgow city centre, ending a siege that lasted nearly eight hours.
The man was taken into custody and driven away from the scene after armed officers entered the restaurant at about 2330 GMT on Friday.
Police were called to Amarone, Nelson Mandela Place, at about 15:40.
The 38-year-old man had been on his own inside the restaurant, police said. No shots were fired during the incident.
Negotiators had been speaking to the man over a megaphone during the siege.
Shortly before the man was detained, three armed officers wearing all black made their way round the side of the building and then ran into the restaurant shouting.
Bomb squad
Two police support units were ushered in through the cordon. About five minutes passed before both vehicles drove away with their blue lights flashing.
Strathclyde Police said: "We can confirm a 38-year-old-man has been arrested and is presently detained in police custody.
"There may be continued restrictions to the immediate area as the investigation is ongoing."
The incident is not thought to be terror-related.
Earlier, Strathclyde Police confirmed that a bomb squad were at the scene.
Sources have told BBC Scotland there was no hostage involved. The restaurant and surrounding buildings were evacuated and Buchanan Street underground station was closed.
There was considerable traffic disruption on Friday with part of Buchanan Street and West George Street closed off, but police said all restrictions had now been lifted.
Fire crews, police and ambulance staff wearing helmets were at the scene.
Police dogs have been used in the streets and were also seen on the Glasgow subway.
Michael Irwin, a 19-year-old Glasgow University student from East Kilbride, had been travelling on the underground system to Buchanan Street when he and other passengers were told they would have to get off at St Enoch.
Describing the scene on Friday night, he said: "I saw armed officers with shields in the area.
"The dog branch was brought in and there is just loads of emergency services all over the place."