More councillors resign from Glasgow City Labour group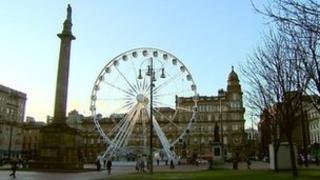 Six councillors have now left Glasgow City Council's ruling Labour group, after a day of turmoil saw the authority's budget pass by two votes.
Stephen Dornan, Tommy Morrison and Anne Marie Millar all resigned from the group before the vote on Thursday.
It emerged on Friday that Andy Muir, William O'Rourke and Ruth Black had also left.
All six councillors had been de-selected by Scottish Labour ahead of May's local authority elections.
Labour councillor Irfan Rabbani, who defected to the SNP last week, had also been de-selected.
A spokesman for Scottish Labour said Councillor O'Rourke had been disciplined earlier in the week and had now left the Labour group.
Membership lapsed
He added that Councillor Black was suspended from the group some time ago and her Labour Party membership had lapsed.
The ruling Labour administration won Thursday's knife-edge vote by 40 to 38, after bringing sick councillors to the city chambers by taxi, to secure victory.
With six councillors no longer part of the Labour group, the party can now count on 40 votes while there are 39 other councillors in total.
Council leader Gordon Matheson insisted the budget would boost youth employment and education.
The SNP claimed the authority's Labour group was "in meltdown".