More funds to help prevent landslips at the Rest and Be Thankful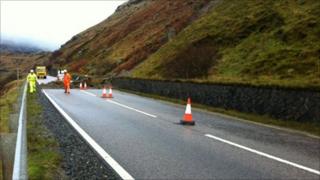 A further £1m is to be invested in helping to prevent more landslips on the A83 Rest and Be Thankful route in Argyll.
Transport Minister Keith Brown said the money would be used to extend safety netting at the site, while a study continues into long-term solutions for the road.
The route has been blocked by landslips in 2007, 2009 and last year.
The investment forms part of a £72m package of new transport spending.
Mr Brown said: "The Scottish government is determined to address the impact severe weather has had in recent months on the A83 at the Rest and be Thankful - a lifeline route which serves communities throughout Argyll.
"That is why we are allocating a significant portion of the extra funding - £1m - to address the problems created by landslips at the Rest and Be Thankful, brought about by severe weather events."
He added: "We are also working closely with Forestry Commission Scotland to explore options for making emergency use of forest roads and using vegetation cover to help reduce the risk of landslips.
"We are acutely aware the effect road closures stemming from landslips impose on local communities and are determined to do everything we can to address those challenges.
"Today's extra funding will allow work to progress which will help minimise the effect on the local communities and road users in the area."