Funeral held for Iraq kidnap victim Alan McMenemy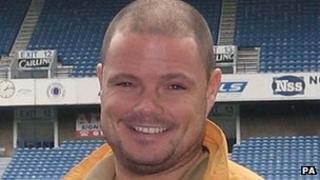 A funeral service has been held for a Scottish security guard who was kidnapped in Iraq five years ago.
Alan McMenemy, from Glasgow, was taken along with three other guards and an IT expert in Baghdad in 2007. His captors later confirmed he had been killed.
Mr McMenemy's body was handed over last month. The bodies of Jason Creswell, Jason Swindlehurst and Alec MacLachlan were returned in 2009.
The only survivor of the kidnapping, Peter Moore, was released in 2009.
The four dead men were acting as bodyguards for Mr Moore.
Hostage exchange
The five men were snatched by militants posing as police at the Iraqi finance ministry in May 2007.
The captors wanted to use them as part of a hostage exchange, but when this was refused the bodyguards were all killed.
Mr McMenemy was 34 when he was taken. His captors later claimed that he was killed trying to escape.
His funeral service took place on Thursday in Bearsden, East Dunbartonshire.