Investigation into major fire at Strathclyde University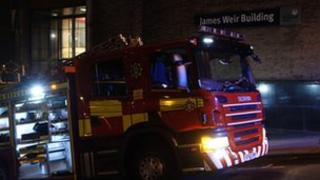 An investigation is set to begin later into a major fire at Strathclyde University's campus in central Glasgow.
The blaze was reported on the seventh-floor of the James Weir building on Montrose Street at 19:16 on Tuesday.
It houses part of the engineering faculty and the presence of hazardous chemicals complicated the operations.
The fire was extinguished at 23:40 and there were no reports of injuries. Neighbouring buildings were evacuated as a precaution.
'Extremely challenging'
Firefighters are currently carrying out dampening-down operations and salvage work at the scene.
Investigations into the cause of the blaze are due to begin later.
Deputy assistant chief officer Jim Doyle, of Strathclyde Fire and Rescue, was in command of crews who tackled the blaze.
He said: "This was an extremely challenging incident in the centre of Glasgow, complicated by the building's network of interlinking corridors and the presence of hazardous chemicals.
"The firefighters' work was exemplary, as they fought through acrid smoke and intense heat to tackle the blaze and bring it under control as quickly as possible without a single casualty."
Montrose Street remains closed to traffic between Cathedral Street and George Street while operations continue.
A statement on the university's Facebook page said: "All classes in the James Weir Building on Wednesday 8 February have been cancelled. This is due to a fire which broke out in the building earlier tonight.
"Students will have access to other university facilities as normal and we will keep you up to date with developments throughout the day."