Actor Peter Mullan reopens historic Govanhill Baths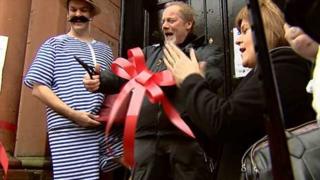 A swimming pool in Glasgow whose closure led to violent clashes with police has been reopened by Scottish actor and director Peter Mullan.
Glasgow City Council closed Govanhill Baths in March 2001 saying it was no longer viable with other pools nearby.
Protesters occupied the historic building but were removed that August.
Mullan was presented with a gold key to unlock the building. He was joined by Deputy First Minister and Glasgow Southside MSP Nicola Sturgeon.
The opening was first phase of a four-year plan to fully reopen the 98-year-old building as a Wellbeing Centre.
The campaign to save the building has been led by the Govanhill Baths Community Trust.
Members have been working on preserving the building and the first phase will see several rooms open as public spaces.
Work will continue on the pool itself before it reopens in about 18 months time.
Keighley Kerr, administrator of the Govanhill Baths Community Trust, said after the opening: "It was fantastic, it was a really good day.
"Everybody was just buzzing, it was brilliant.
"It think it's shown everybody that we're actually achieving what we set out to achieve all those years ago."
On Mullan's presence at the opening ceremony, she added: "That definitely added to the day."
Trust member Andrew Johnson said that 30,000 people had originally signed a petition to keep the pool open and the campaign, although it initially failed, had helped keep the community together.
"This is a campaign that has kept alive with support from across the community and support from across the world," he said.
"We've had money and donations from as far away as Brisbane and New York and from expatriate Scots across the world."
Community health
Mr Johnson said the new Wellbeing Centre would help regenerate the area and play an important role in boosting community health.
"The centre will provide facilities that are to do with learning and culture and the arts and a fully equipped gymnasium," he added.
"We're converting the old steamie into an event hall and a market hall that can be used by the local community and also rented out for events."
Mr Johnson said the Trust was also aiming to have all four pools within the building back in use.