Champion boxer Grant Quigley guilty of assaulting Thomas Thruel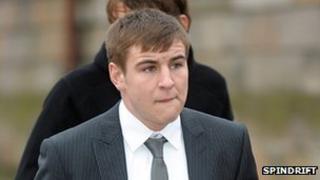 A young champion boxer's career is in ruins after he was convicted of brutally assaulting another teenager.
Grant Quigley battered and stamped on 19-year-old Thomas Thruel in Port Glasgow, Inverclyde, in November 2010.
The 17-year-old recently won silver at the Commonwealth Youth Games and was in contention for Glasgow 2014.
At the High Court in Glasgow, Quigley, from Port Glasgow, was found guilty of assault to the danger of life. Sentence was deferred for backgrounds reports.
The trial heard how Mr Thruel was set upon near a roundabout in Brown Street, Port Glasgow, on 20 November 2010.
CCTV footage
Quigley was with friends Lee Doherty and Michael Murray, both 18.
The victim was knocked out and told the jury how he later could not remember being at hospital.
CCTV footage showed Mr Thruel lying on the ground after the attack as Quigley and the others fled.
Quigley - who has won a string of amateur titles - told the jury he was "disgusted" at getting involved in the brawl and "regretted" what happened.
The teenager said it was Mr Thruel who lashed out first and that he was defending himself.
Quigley said: "He had ran at me and reached around his back. I thought he had a knife.
"He said he was going to stab my eye and batter me like he had my brother."
The young boxer also alleged he and his brother Greg had previously been bullied by Mr Thruel and friends.
Quigley said: "It was so bad I had to be escorted from class to class by a teacher and I also had to stop getting the school bus."
Reduced charge
Quigley had initially faced an allegation of attempted murder before being found guilty of the reduced charge.
Co-accused Murray admitted to an assault charge during the trial having also been accused of the murder bid.
It also emerged that Quigley had been interviewed in 2009 during a feature on the former STV show The Hour.
In it, he said: "Boxing keeps me out of the street and keeps me out of trouble.
"Boxing is probably what I am best suited to."