Jack Frew murder: Killer Craig Roy saw schoolboy as 'love threat'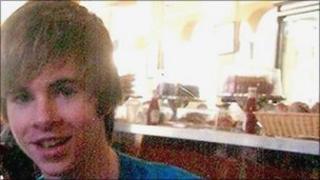 The background to the brutal murder of East Kilbride schoolboy Jack Frew lies in the complex sexual relationships between three young men.
Murderer Craig Roy, 19, idolised his 20-year-old boyfriend Christopher Hannah and was terrified he would find out that he had had sex with Jack.
Roy claimed he was being blackmailed by his classmate and took a knife to a meeting to "scare him".
That decision cost 16-year-old Jack his life.
During the trial, the court heard how Roy and Jack were classmates at Duncanrig High School in East Kilbride, South Lanarkshire.
Openly gay
Both were openly gay and sat next to each other in chemistry class.
Roy had had oral sex with Jack on two previous occasions and believed his classmate was a threat to his "perfect" relationship with Christopher Hannah.
Roy did not want him to find out that he had had cheated on him with Jack because he believed Mr Hannah would leave him.
He agreed to meet Jack at a wooded area near Wellesley Crescent and Mossneuk Road at about 18:00 on 6 May 2010, after receiving an explicit sexual text message from the teenager.
Roy said he took a knife with him as "back-up" and "to scare" Jack because the schoolboy, who he described as a "sex pest", never took him seriously.
Roy claimed that as they entered the woods, Jack touched him on the bottom and exposed himself.
Roy said he told him to "put it away" and produced a knife from his pocket. The next thing he claimed to remember was Jack lying on the ground.
What was not in doubt was that Roy had launched a ferocious attack on his classmate.
The court heard that Jack suffered 20 stab wounds and had his throat slit from side to side.
Defensive wounds to his hand showed Jack had fought for his life, but was defenceless against an onslaught of knife blows to his neck and body.
Covered in blood
Minutes later, as Jack lay dying, Roy's first thought was not to call for an ambulance or the police, but to call Mr Hannah - who he described as "his 999".
Mr Hannah, 20, from East Kilbride, who is studying criminal psychology at Glasgow Caledonian University, said he received a phone call between 18:30 and 18:45 from Roy, saying: "Jack Frew is dead."
He added that as they spoke on the phone: "It became apparent there was something very wrong so I started to run."
Mr Hannah said when he got there: "Craig had blood all over him. I was worried he was hurt. He wasn't saying anything. He wasn't making sense. He looked bewildered. There was a knife in his hand."
When he went over to Jack he said: "His neck was cut. It was open. I knew he wasn't alive."
Roy's sister, Robyn, 17, from East Kilbride, said he phoned her and sobbed as he said: "I've slit Jack's throat."
She added: "I asked him why he done it and he said 'he's been blackmailing me. It was only meant to be a threat'.
"He said Jack had been pestering and annoying him."
Roy claimed that he was unable to deal with anger in public and chose instead to bottle it up and "explode" in private by self-harming.
He claimed that he was in a rage with Jack because he would not stop pestering him - although he admitted he enjoyed the attention.
Psychiatric evidence
He told one of the five psychiatrists who interviewed him that as a child he always got everything he wanted.
If someone said "no" to him he could become angry.
Three of the psychiatrists who gave evidence said that while Roy had certain personality traits, he did not have a personality disorder and was not mentally impaired at the time of the killing.
Two other psychiatrists claimed he had personality disorders.
One concluded he had borderline personality disorder and the other that he had an unspecified personality disorder and said he could have been mentally impaired.
After the brutal killing Roy, who had planned a bright future which included studying immunology at university and being married to Mr Hannah and having two children, spoke of being haunted by thoughts of Jack.
Family and friends said Jack was always smiling and full of enthusiasm and zest for life.
He was a gifted student and in 2008 was awarded a school prize for merit and outstanding endeavour.
Jack wanted to be a dancer or a performer and had starred as Widow Twanky in the school production of Aladdin.
Second tragedy
At his funeral a poem entitled Me - which was written by Jack and revealed his love of performing - was read out.
The verse read: "The curtains open. The lights are shining on another dramatic day in the life of Jack Frew.
"Everybody's watching intensely, waiting for the performance to begin. By the end of the day I can guarantee there will have been a standing ovation alongside a wave of hisses - but in which order?
"What I do know is that every person who has had an impact on my life today - be it a crowd booing or an audience applauding - each and every one of them cares enough about me to make that echoed noise."
A second tragedy hit Jack's family when, the day before his funeral, his uncle Colin Ferguson - who had gone missing after visiting a shrine to his nephew - was found dead.