Craig Roy convicted of murdering schoolboy Jack Frew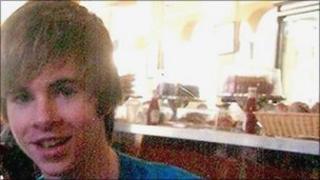 A teenager has been convicted of the brutal murder of schoolboy Jack Frew.
Craig Roy had admitted stabbing the 16-year-old 20 times and slitting his throat in woods in East Kilbride in May 2010, but he denied murder.
A jury at the High Court in Glasgow rejected defence claims he suffered from a personality disorder and should be convicted of culpable homicide.
Roy, 19, now faces a mandatory life sentence. He will be told his minimum jail term at a later date.
After the verdict, Jack Frew's family described it as a "cold, calculating" murder and said his name had been tarnished by "wicked words and lies".
During the trial, the court was told that Roy and Jack were classmates at Duncanrig High School in East Kilbride, South Lanarkshire.
During evidence, the jury heard claims that Roy had oral sex with Jack on two previous occasions.
He later told psychiatrists, who interviewed him after the murder, that the schoolboy was a "sex pest" and had been blackmailing him.
Roy's defence team said he was worried that Jack would tell his boyfriend, Christopher Hannah, about their previous sexual contact.
When Jack texted Roy requesting a meeting on 6 May 2010, Roy took a knife from his family home.
He claimed that he took the knife as "back-up" and "to scare" the 16-year-old.
He said that during their meeting in woods, close to Mossneuk Road and Wellesley Crescent, the schoolboy touched him on the bottom and exposed himself.
Roy claimed this made him angry and he took the knife from his pocket. He claimed the next thing he remembered was Jack lying on the ground seriously injured.
After the murder Roy phoned his boyfriend, Mr Hannah, and he arrived at the scene before police and paramedics were called.
The court heard from psychiatrists who had interviewed Roy after the murder.
Those called by the prosecution said Roy did not suffer from any personality disorder.
Psychiatrists called by Roy's defence team said that he did suffer from disorders.
Jurors, however, took just an hour-and-a-half to unanimously reject a plea from Roy's defence to find him guilty of culpable homicide due to diminished responsibility caused by his mental state at the time.
There was a gasp in the court from Jack Frew' s family when the verdict was announced and his mother, Lorraine, began sobbing.
Roy will appear at the High Court in Edinburgh on 1 March when he will be sentenced to detention for life.
The judge will have to decide on the punishment part of his sentence - the minimum he will have to serve before he is eligible for parole.
As Roy was placed in handcuffs and led to the cells, Jack Frew's father, Robert, said quietly: "Rot in hell."
In a statement, the victim's family said: "The verdict could have been none other than murder, because that's what it was. Cold, calculating and planned murder.
"Not only has Jack had his life snatched from him, but his good name has been tarnished by wicked words and lies which were unfounded.
"The family can only take comfort from the fact that those who knew Jack know and remember what he was really like."
The area procurator fiscal for Lanarkshire, Janet Cameron, said Roy's crime showed the "devastating consequences that can follow from carrying a knife".
"The senseless loss of such a young life is tragic and caused shock and concern not just to the local community in East Kilbride but across our country," she said.
"Today's conviction should act as a warning to anyone thinking of leaving home with a knife or using a knife that prosecutors, working together with the police, will ensure that those people are caught, prosecuted and brought to justice.
"Our thoughts remain with the family of Jack Frew at this time."