World War Z leads the way as films bring £20m boost to Glasgow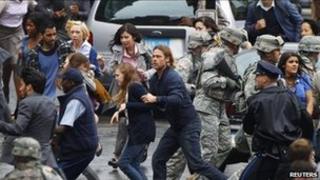 Hollywood films and other productions boosted Glasgow's economy by £20.15m last year, according to new figures.
The biggest contributor was the Brad Pitt zombie film World War Z, which brought £3.33m during its 17 days on location last summer.
Cloud Atlas, starring Halle Berry; Under The Skin, starring Scarlett Johansson; and TV production Young James generated almost £5.5m.
The figures were compiled by the city council-run Glasgow Film Office.
A further £2.2m was spent by low impact productions which had one or two-day shoots in the city.
'Tremendous boost'
Glasgow City Council leader Gordon Matheson said: "Alongside the great deal of excitement and enjoyment that films such as World War Z and Cloud Atlas brought was a tremendous economic boost for the city.
"The hard work of Glasgow Film Office and all the other council staff involved with the productions that come to our city has most certainly paid off, with over £20m coming into our economy.
"Such a figure underlines the financial importance of attracting film, broadcast and advertising productions to Glasgow."
About 1,200 cast and crew members were involved in the filming of World War Z in Glasgow last year.
The various costs included hotel stays equivalent to 8,500 bed nights, hiring of local extras and location costs - which included the transformation of Glasgow city centre into Philadelphia.
Other films shot in the city in the past 18 months include Peter Mullan's Neds; Perfect Sense, starring Ewan McGregor and Eva Green; and The Decoy Bride with David Tennant.
Filming of the Irvine Welsh book Filth, starring James McAvoy, is currently taking place in Glasgow.
Glasgow Film Office said it received 311 location enquiries in 2011, which resulted in 225 productions being shot in the city.
It said 46% of these were TV projects, 7% films, 14% commercials, 6% short films and 26% miscellaneous projects, ranging from corporate productions to stills shoots.
In total, there were 726 filming days in 2011, of which 53% were from indigenous productions.