Andrew Deighan guilty of murdering Matthew Martin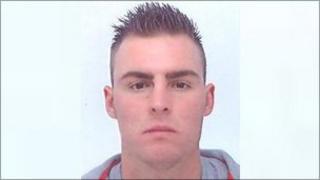 A former student has been convicted of murdering a man he hit over the head with a baseball bat.
Andrew Deighan, 24, carried out the unprovoked attack on 20-year-old Matthew Martin in East Kilbride on 6 February 2011.
The High Court in Glasgow heard that he fled to London after the murder but was arrested after his own mother reported him to the police.
Deighan faces a mandatory life term when he is sentenced next month.
The jury heard how Deighan - then a quantity surveying student at Glasgow Caledonian University - had been out watching an Old Firm game before getting into a fight.
He later armed himself with a baseball bat, used a woolly hat as a mask and went back out to confront those he had been rowing with earlier.
Brain damage
Mr Martin had spent the night in a local bar with his father. He was later standing outside with friends when he was fatally hit.
The jury watched CCTV images which showed Deighan sprinting towards the ex-supermarket worker and striking him with the black bat.
Mr Martin initially staggered off, but his body was discovered outside the Village Inn pub in East Kilbride the next morning.
He had two skull fractures and had suffered severe brain damage.
Deighan, of Cambuslang, South Lanarkshire escaped to a friend's house after the incident and boasted he had hit someone at "random".
He also went to the home of his mother Margaret.
When she later learned of Mr Martin's death, she made an anonymous call to police to report her son.
Deighan meantime had fled to London, where he was caught on CCTV at a McDonalds near the Houses of Parliament.
He eventually handed himself in to a magistrates court before Strathclyde Police arrested him.
'So sorry'
Deighan claimed during his trial that hitting Mr Martin that night was "the biggest mistake" of his life.
He added: "I am human and I did not want to do that to anybody. I care about other people.
"I have heard (Mr Martin's) family cry throughout the trial and its horrible. I wish I could turn the clock back. I am so sorry."
The 24-year-old was found guilty of murder after a five-day trial.
Speaking after the verdict, Mr Martin's father, Bernard, recalled how he initially refused to accept his son was dead - despite being told by police his body had been found.
The 48 year-old said: "I kept phoning his phone. I did not want to believe what the officer was telling me.
'A liar'
"I later had to go into Glasgow to the mortuary and identify my boy."
Mr Martin added: "He was what every father wanted from a son. I was proud that people saw him as my son."
The victim's step mother Julie Martin called Deighan "a liar" and accused him of "putting on the waterworks" to get a lesser conviction.
She added: "We are obviously ecstatic at the verdict and, thankfully, the jury seen through what Deighan was saying.
"Matthew was entirely innocent in all of this and did not deserve what happened."
She said her step-son was "always full of smiles" and "made an impression on everyone" he met.