Loch Creran barge death firms have £640,000 fines cut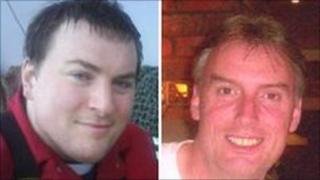 Two companies who were fined a total of £640,000 over the deaths of two men on a fish farm barge in Argyll have had their penalties cut by appeal judges.
Maarten Pieter Den Heijer, 30, and 45-year-old Robert MacDonald died on Loch Creran, near Oban, in May 2009.
Scottish Sea Farms was fined £600,000 and Logan Inglis was fined £40,000 over health and safety breaches.
Appeal court judges agreed the fines were too harsh and reduced them to £333,335 and £20,000 respectively.
The original fines were imposed by Sheriff Douglas Small last year after the case was heard at Oban Sheriff Court.
Low oxygen
The court heard how Scottish Sea Farms worker Campbell Files and engineer Arthur Raikes - employed by Logan Inglis - were fixing a hydraulic crane on the barge when they went below deck to find cabling and pipework.
The oxygen levels below deck were very low and Mr Files passed out while Mr Raikes managed to climb back out.
In an attempt to rescue Mr Files, his Scottish Sea Farms colleagues Mr Den Heijer and Mr MacDonald entered the small chamber below deck but lost consciousness almost immediately.
The three men needed to be rescued by emergency services but only Mr Files recovered.
Following the incident on 11 May 2009, inspectors from the Health and Safety Executive (HSE) discovered Scottish Sea Farms had failed to suitably prepare staff for working in the small, sealed chambers on the Loch Creran barge.
Logan Inglis was also found to have failed in its duties to staff in terms of information provided and training.
Neither company had identified the risk to their respective employees from working in the confined spaces.
Both firms pleaded guilty to breaches of safety rules, but appealed against the level of fines imposed.
Lawyers for the companies told the Court of Criminal Appeal in Edinburgh that Sheriff Small had failed to take account of factors which should have made the fines more lenient.
Lord Mackay of Drumadoon, sitting with Lord Menzies and Lady Dorrian, agreed and ordered that the fines should be reduced.
The court heard that both firms had good records on health and safety matters.
Scottish Sea Farms was said to have an annual turnover of almost £94m. For Logan Inglis the figure was more than £2.7m.
The appeal judges were told the engineers had been hit by the economic downturn and that if the fine was too heavy it could lead to redundancies.