Fatal accident inquiry to be held into Declan Hainey's death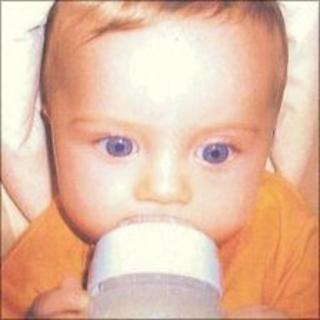 A fatal accident inquiry (FAI) is to be held into the death of a toddler who was murdered by his drug addict mother at their flat in Renfrewshire.
Kimberley Hainey, 37, was convicted of killing Declan at their home in Bruce Road, Paisley, and hiding his body to avoid a police investigation.
The child's mummified body was found in his cot in March 2010 - eight months after he was last seen alive.
Hainey was jailed for life and ordered to serve a minimum of 15 years in jail.
An FAI can be held where there are issues of general public concern arising from a death.
Hainey was convicted of murdering Declan in December, following a six-week trial at the High Court in Glasgow.
Heroin addict
She was also found guilty of neglecting her son, failing to report his death and of attempting to pervert the course of justice by concealing his body at the flat.
During her trial, the court heard that Hainey, a heroin addict, was placed on a methadone programme after the birth of Declan and at first appeared to be doing well.
But she was lying to her family, her neighbours and welfare authorities, going out without Declan, and claiming he was at nursery or staying with relatives or friends.
Hainey was, in fact, out enjoying herself, taking drink and drugs and seeing men. Her son was left alone during this time without food or water.
After Declan was dead, Hainey sold his clothes and toys to buy heroin. She left his body in the cot in his bedroom and left him to rot.
His favourite cuddly toy was dumped in a playpen under a pile of rubbish.
The cause of the child's death is not known. He is said to have been last seen alive when he was 15 months old.
Declan's decomposed and mummified body was discovered in his cot on 30 March 2010.
Experts estimate he had been dead for months.