Celtic Connections concert tribute to Gerry Rafferty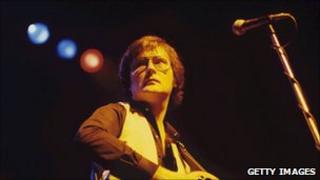 If drummers are the most unrecognised members of any band, songwriters get even shorter shrift.
Unless they're out front in the full glare of publicity, few songwriters ever get the acclaim they deserve.
For some, that's just the way they like it. Gerry Rafferty was the most uncomfortably self conscious pop star.
His 1978 acceptance speech at the British Pop Awards is a case in point, leaving everyone squirming in their seats at his discomfort in the limelight.
So what he would have made of the two sell-out tribute concerts at Celtic Connections this week is anyone's guess. The idea came from his daughter Martha and close friend Rab Noakes, after the singer songwriter's funeral in Paisley last year.
They drew up a wishlist of performers - representing all sides of Rafferty's career, as a producer as well as a singer and songwriter.
Noakes dates back to Stealer's Wheel, Barbara Dickson sang backing vocals on City to City and Night Owl, The Proclaimers worked with him in 1986 when he co-produced their breakthrough single Letter to America.
Performers were willing but the original plan for a concert on his birthday in April was too soon. Talks began with Celtic Connections.
The first concert announced in October sold out in record time and a second date was added. Performers continued to be added.
Among them Martha herself, and her cousins, who will reprise their acapella version of Whatever's Written in Your Heart - which they first performed at his funeral last year.
Only one cousin - Mark - is a professional singer but the others regularly sing together at family get-togethers and they decided they'd like to do it again for the tribute concerts.
"It's a bit nerve wracking," said Martha, "but they didn't take too much persuading and they've taken to it like ducks to water."
And close friend Rab Noakes said Gerald - as he knew him - would be quietly proud of the efforts.
"He appeared to be reticent about the spotlight but he did like his songs to be recognised," he said.
"He had no truck with celebrity but he enjoyed putting some big songs into the canon.
"Those songs were made to be performed and this concert shows that. It's the work, not his personality which is in the spotlight."