Probe after man thrown from Glasgow's 'Squiggly bridge'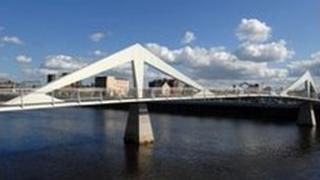 A 24-year-old man has been treated for hypothermia after apparently being thrown from a bridge over the River Clyde in central Glasgow.
The man was speaking to a group of men near to the Tradeston Bridge - known locally as the Squiggly Bridge - at about 19:45 on Wednesday.
He was then thrown into the water by some of the group before they ran off.
The man was rescued by emergency services and taken to Glasgow Royal Infirmary for treatment.
'Frightening experience'
Det Con Alan Cuthbert, of Strathclyde Police, said: "This was a very frightening experience for the young man involved.
"We are continuing extensive enquiries into how he came to be in the water.
"It is believed that he was thrown into the water by at least two men who had been in his company earlier in the evening."
Det Con Cuthbert said he would like to speak to several people who were on the bridge at the time of the incident.