Jack Frew murder trial hears sex and blackmail claims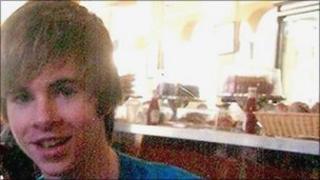 The Jack Frew murder trial has heard claims that the schoolboy had sex with the accused and was blackmailing him.
Craig Roy's sister, Robyn, 17, told the High Court in Glasgow that her brother admitted to her that he killed Jack.
She told police her brother said he slept with the schoolboy once and was being blackmailed by him. Ms Roy said in court the sex claim was untrue.
Mr Roy, 19, admits stabbing 16-year-old Jack Frew in East Kilbride in May 2010, but denies murdering him.
David Burns QC, defending, has said there was no dispute that his client, originally from East Kilbride, struck the teenager repeatedly with a knife.
Jennifer Bain, prosecuting, read from the statement which Robyn Roy gave police on 6 May 2010 after the alleged incident, describing a phone call with her brother.
'Asking for sex'
In it, Ms Roy said her brother told her: "I've slit Jack's throat."
The statement went on: "I asked him why he done it and he said 'he's being blackmailing me. It was only meant to be a threat.'
"He said Jack had been pestering and annoying him for over a year.
"He said he had slept with Jack once and that Jack kept asking for sex ever since and was blackmailing him.".
Ms Roy was asked if the statement was true and said: "Yes, but not where he said he slept with Jack."
Ms Roy said that when she spoke to her brother later he told her the part about sleeping with Jack Frew was not true.
Ms Bain asked: "Does your statement say: 'I asked him if he really intended to hurt Jack and he said 'No' and she replied: "Yes."
The jury was told that Ms Roy was a pupil at Duncanrig Secondary School in East Kilbride and knew Jack Frew, who was a year above her in school, to see but had never spoken to him.
She was asked if he was popular and if he took part in school plays and replied: "Yes."
Ms Roy was then asked if Jack had been accepted at school as being homosexual and she replied: "Yes."
'Pretty hysterical'
Under cross-examination by defence QC David Burns, Ms Roy agreed she told police that her brother "didn't know what he was saying and was pretty hysterical" on the phone.
Jack's school friend Calum Chisholm told the court how he was texted by Jack just hours before his death. The text said he was going to meet Mr Roy.
Mr Chisholm, 19, who was a fellow pupil at Duncanrig School, told the jurors he received a number of texts from Jack.
One of the texts said: "Ha, ha! Well Craig Roy wants to meet me later. Threesome?"
Mr Chisholm, who said he had had a relationship with Jack for about a year, said he texted back saying he was studying and got a message back accusing him of being boring.
He said the final message he received from Jack said: "Meeting behind the church the now if you want to join."
PC Neil Clark told the court how he was sent to Hairmyres Hospital in East Kilbride with a colleague to relieve officers who had taken Mr Roy there to have a cut to his hand treated.
PC Clark said they arrived at the hospital at 23:00 and Mr Roy spoke to him unprompted, saying: "He was bribing me for sexual pleasures, but I know that's no excuse for what I've done."
Knife missing
Mr Roy's mother Fern Roy, 46, earlier told the court that she ate with her son at about 17:00 on the day Jack Frew was killed and they discussed the elections which were being held that day and talked about who would win.
Mrs Roy said he seemed as normal and went out to see a friend around 18:00.
Later that night she received a phone call from her son's lover, Christopher Hannah, 20, who told her that he had hurt someone.
She went out with her daughter looking for her son and found police at the scene.
Mrs Roy said she was asked by police if there was a knife missing from the family home.
She said: "I said no. I checked and there were none missing."
Ms Bain asked: "Were further inquiries made?" and Mrs Roy replied: "It was when a set of knives was mentioned. There was a set of knives we didn't use."
She said that, accompanied by a policewoman, she looked in a cupboard in the kitchen and found the set at the back with one knife missing.
Mrs Roy said she noticed nothing unusual in her son's behaviour in the months leading up to this incident and added that he had never been treated for behavioural problems.
'Very bolshie'
The court was told that she first realised her son was gay when he was 14.
Mrs Roy said: "He just came out and said he was gay. I was a bit surprised because he liked girls, but it didn't bother me."
She described her family as "close." However, she said she had concerns about her son's relationship with Mr Hannah because he was older and "in your face and very bolshie".
She was asked if she had tried to stop her son seeing Mr Hannah and replied: "Teenagers are going to do what they are going to do."
The court was told that Mr Roy was bright and hoped to go on to university.
Paramedic Robert McEwan later told the jury that he was called to the death scene after a report at 19:02 a male had his throat cut.
Mr McEwan was met by Mr Roy's lover Christopher Hannah, who directed him to the body.
Ms Bain asked: "What did you come across?"
The witness replied: "Craig Roy was sitting to my right crying and there was Jack Frew's body on the left.
"He was 10 feet away from Jack Frew's body sitting crying with a knife near to him on the ground. It had some blood on it."
Neck injury
He was asked how Mr Hannah was and replied: "He was on his phone texting and was very calm."
The 41-year-old medic told the court he could see Jack had suffered a "nasty neck injury".
Mr McEwan went on: "There was not blood coming out...it was quite obvious it had happened a wee bit before we arrived, but it was clear to me that Jack was dead by that point.
"The wound was close to the carotid artery and other major areas of the neck."
Earlier, a juror at the trial was discharged after it emerged that he knew one of the witnesses.
The trial, before Lord Doherty at the High Court in Glasgow, will go on with 14 jurors - nine women and five men.