Kimberley Hainey jailed for murdering son Declan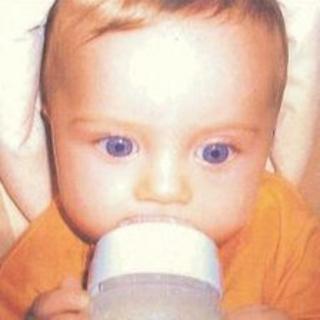 A mother who murdered her toddler son at their flat in Renfrewshire has been jailed for a minimum of 15 years.
Kimberley Hainey, 37, was convicted of killing Declan at their home in Bruce Road, Paisley, and hiding his body to avoid a police investigation.
The child's mummified body was found in his cot in March 2010 - eight months after he was last seen alive.
Jailing Hainey for life, judge Lord Woolman said she would have to live with the fact she murdered her son.
The judge told her: "Declan Hainey's first birthday took place in April 2009. He appeared to have all his future in front of him. He was surrounded by a loving family.
"People thought you were a devoted mother, but a matter of months later Declan was dead."
Family devastated
Lord Woolman told Hainey she had isolated Declan from family, neighbours and the welfare services.
The judge added: "You were Declan's carer and you did not allow others to get close.
"The death of Declan has had a devastating effect on the family.
"The death of your son is a huge tragedy for you. You said that you loved Declan more than anything in the world. You will have to live with his death for the rest of your life."
Hainey showed no emotion as she was led away to begin her sentence.
Her defence QC Edward Targowski said: "Miss Hainey is still adamant she had no involvement in the death of her child.
"Her position is that she found Declan dead in the morning and her actions afterwards in relation to the charge of attempting to pervert the course of justice were as a consequence of that.
"She has said this from the outset. That is the position she has held and will continue to hold after the sentence is imposed."
'Justice done'
None of Hainey's family was in court to see her sentenced.
Two former neighbours were present and said "yes" as she was sentenced, but they declined to say anything as they left court other than: "Justice was done".
Hainey was convicted of murdering Declan in December, following a six-week trial at the High Court in Glasgow.
She was also found guilty of neglecting her son, failing to report his death and of attempting to pervert the course of justice by concealing his body at the flat.
During her trial, the court heard that Hainey, a heroin addict, was placed on a methadone programme after the birth of Declan and at first appeared to be doing well.
But she was lying to her family, her neighbours and welfare authorities, going out without Declan, and claiming he was at nursery or staying with relatives or friends.
Hainey was, in fact, out enjoying herself, taking drink and drugs and seeing men. Her son was left alone during this time without food or water.
After Declan was dead, Hainey sold his clothes and toys to buy heroin. She left his body in the cot in his bedroom and left him to rot.
His favourite cuddly toy was dumped in a playpen under a pile of rubbish.
Body 'mummified'
At Declan's funeral Hainey had a wreath with "Mummy's little angel" put on his coffin.
The cause of the child's death is not known. He is said to have been last seen alive when he was 15 months old.
Declan's decomposed and mummified body was discovered in his cot on 30 March 2010.
Experts estimate he had been dead for months.
On Wednesday, the Crown Office released dozens of images showing the squalid condition of Hainey's flat when Declan's body was discovered.
The pictures showed rubbish, dirty clothes and soiled nappies scattered around the home.
Speaking after Hainey was jailed, Det Insp Maxine Martin, from Strathclyde Police, said she was "satisfied that justice has been served".
'Defenceless child'
"We will never know the extent of Declan's suffering nor will we ever understand how a mother could behave in this way towards an innocent and defenceless child, her own child," she said.
"There was one person and one person alone who was responsible for Declan's death and that was his mother Kimberley Hainey.
"She deceived everyone who was close to her. She went out of her way to conceal what she did from her friends, her family and also from the various agencies who only wanted to help her."
Kenny Donnelly, district procurator fiscal, said: "Declan Hainey was born a healthy child. However, he was later neglected and murdered by his mother, Kimberley Hainey.
"She then concealed Declan's body and embarked upon a course of deception in which she led others to believe that he was still alive.
"This was a tragic and distressing case and today Kimberley Hainey has been rightly punished by the court for her actions."
The Crown Office published photographs of Declan Hainey, following a case brought by BBC Scotland.
At the Court of Session Lord Bonomy said the BBC's right to freedom of expression over-rode Kimberley Hainey's right to privacy.