Three men jailed over £1.2m cannabis haul in Bellshill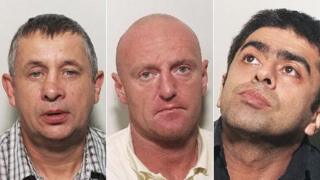 Three men have been jailed after being caught with £1.2m of cannabis resin.
Naeem Asghar, from Motherwell, and Wigan men Anthony Kenyon and Phillip Rannard were found with 242 kilos of the drug in North Lanarkshire in 2010.
Asghar, 38, was found guilty of being involved in the supply of the class B drug, while Kenyon, 37 and Rannard, 47, both pleaded guilty.
Asghar was jailed for six years, Kenyon for four years and 10 months and Rannard for four years and six months.
The High Court in Glasgow heard that Asghar, Kenyon and Rannard were arrested on 24 September 2010 after a surveillance operation by the Scottish Crime and Drug Enforcement Agency (SCDEA).
Boxes transferred
Officers from the agency had received information that Asghar was set to receive a large quantity of illegal drugs.
The court heard how Asghar left his work in Newmains, North Lanarkshire, in a van and travelled to an industrial estate in Uddingston.
He met Kenyon and Rannard, who had also arrived in a van.
The three men were seen transferring four boxes into Asghar's vehicle before both vans were driven off.
When police stopped the vans on Burniehill Road, Bellshill, they found four boxes within Asghar's van and a further nine boxes in the van occupied by Kenyon and Rannard.
The boxes were found to contain a total of 242 kilos of cannabis resin with a street value of £1.21m.
Speaking after the three men were jailed, Det Ch Sup Tony Mole, head of investigations at the SCDEA, said: "As a result of our investigation, we have prevented a significant amount of illegal drugs from reaching our streets and causing untold harm in our communities.
"In addition, three drug dealers are serving much-deserved prison terms.
"We will continue to target drug dealers and others involved in serious organised crime, and I would urge the public to support us."