David Whitefield sentenced for poisoning buzzards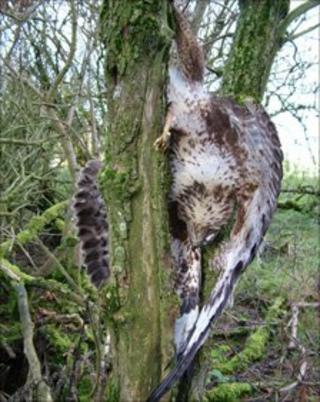 A gamekeeper who poisoned four buzzards has been ordered to carry out 100 hours of community service.
David Whitefield, 45, admitted poisoning the birds with chloralose baits at Coulter Allers Farm, Biggar, between March and November 2009.
Lanark Sheriff Court heard how he was caught after Scottish SPCA officers and police searched the farm.
Sheriff Nicola Stewart told Whitefield that his punishment was a direct alternative to a custodial sentence.
The court previously heard how Whitefield was the only gamekeeper employed at the farm.
Scottish SPCA officers and police searched the land and buildings at the farm on 11 November 2009.
Whitefield showed officers the carcasses of four buzzards in varying states of decomposition.
Poison jar
He said he had sprinkled poison on the baits to reduce the number of buzzards over the previous six months.
A coffee jar and a bucket containing poison were found inside an unlocked shed in the grounds of the keeper's cottage where Whitefield stayed.
He initially told officers that the landowner was not aware of his actions.
After he was sacked and evicted from his tied cottage, however, Whitefield said he had been asked to reduce the number of buzzards in any way he saw fit, although he had not been specifically told to kill them.
He later pleaded guilty to a contravention of the Wildlife and Countryside Act 1981.
The conviction is Whitefield's second for wildlife offences.
In October 2008, Whitefield was fined £300 after pleading guilty to trapping a buzzard for at least 48 hours, and failing to meet its needs whilst it was in the trap.
Speaking after his latest conviction, Bob Elliott, head of investigations at RSPB Scotland, said: "We are pleased that Mr Whitefield's actions have been viewed as a serious crime by the courts.
"Today's sentence is a reminder that the illegal practise of poisoning protected birds of prey will not be tolerated."
Scottish SPCA Ch Supt Mike Flynn added: "In addition to receiving a community service order, Whitefield now has a criminal record and has also lost his job and his home as a result of his crime.
"Not only were his actions deliberate and cruel, but the manner in which the poisons were stored and used was extremely reckless."