FAI considered in Declan Hainey murder case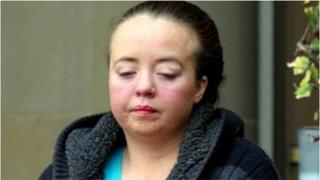 Proposals have been put forward for a fatal accident inquiry into the death of a toddler whose mother was convicted of murdering him.
Last week, Kimberley Hainey was convicted of murdering her son Declan following a six-week trial at the High Court in Glasgow.
The Crown Office said the matter would be reported to its new fatalities investigation unit.
The Crown Counsel will then decide whether to hold an FAI.
Declan was last seen alive in July or August 2009 when he was aged about 15 months.
His body was discovered in his cot at a flat in Bruce Road, Paisley, by police on 30 March 2010. Experts estimate he had been dead for months.
The Scottish Fatalities Investigation Unit (SFIU) was officially launched in March to provide guidance on death investigations - particularly those which raise issues of significant public concern.
FAIs are held in cases where there are issues of public safety or matters of general public concern arising from a death, or a need to highlight dangerous circumstances or systems that have caused or contributed to it.
Hainey, 37, was also convicted of a string of neglect charges, in which she abandoned her son for excessive periods of time and failed to provide him with adequate nourishment.
Hainey also pretended the child was being cared for by family members or that he was at nursery, leading people to believe he was still alive.
She faces a life sentence when she is brought back to court next month.
First minister questions
A Crown Office spokesman said: "Following her conviction, the Procurator Fiscal Paisley will now report this matter to the Crown Office Scottish Fatalities Investigation Unit and thereafter to Crown Counsel for consideration of a fatal accident inquiry under the Fatal Accidents and Sudden Deaths Inquiries (Scotland) Act 1976."
Earlier, the new Scottish Labour Leader, Johann Lamont highlighted the case in her first opportunity to pose questions to the first minister since her election.
She asked whether lessons could and would be learned from the case with regard to child protection, and challenged the first minister to stage an independent inquiry.
The first minister told her that improvements to the existing inspection regime had been made as the result of an inquiry "looking at tragic individual cases and seeing how that reflected on the system across the country".
He stated there was "substantial evidence that social work departments as a result of the inspections and re-inspections are performing much better than they were before".
But he said no politician could guarantee that tragedies such as the Declan Hainey case would never occur again.